A Tainan native who devoted herself to art
Born and bred in Tainan, Ruxin said that her hometown had a distinctive lifestyle and pace which kept people staying. After graduation, she was trained and then worked in Tainan, then went to the UK for advanced study. Eventually, she returned home and opened "Made in Heart," a combination of a kids art studio and accommodation for travelers, sharing her beloved restful life with more people. Looking back at her childhood, she always liked playing a teacher, leading a bunch of kids at her age to make paper dolls and play house, though with a gentle nature, everyone still willingly followed her. When in high school, she fell in love with drawing and started to learn from sketching. As drawing would make her happy and forget the pressure of studying for exams, it inspired her to combine the dream of being a teacher with art she loved. When studying Art Education in college, she majored in ink-wash painting, an art form that used fewer colors but more tonal changes to bring people and scenery to life. She laughed and said that she enjoyed painting women and children the most—their beauty and innocence were just like the dream hidden under her gentle brushstrokes.
With the dedication to art, Ruxin even once explored the field of "History of Art and Archaeology." After working several years as teacher-in-training in elementary school, as she had a keen interest in history and classic art from an early age, she went to the University of London to study History of Art and Archaeology to broaden her horizons and learn more about various arts and cultures. Completing the degree, she returned to Taiwan and joined a museum team to work on a project of restoring cultural artifacts for a year. Afterward, she started a career as an art teacher at elementary school, in the hope of bringing what she had learned into her teaching.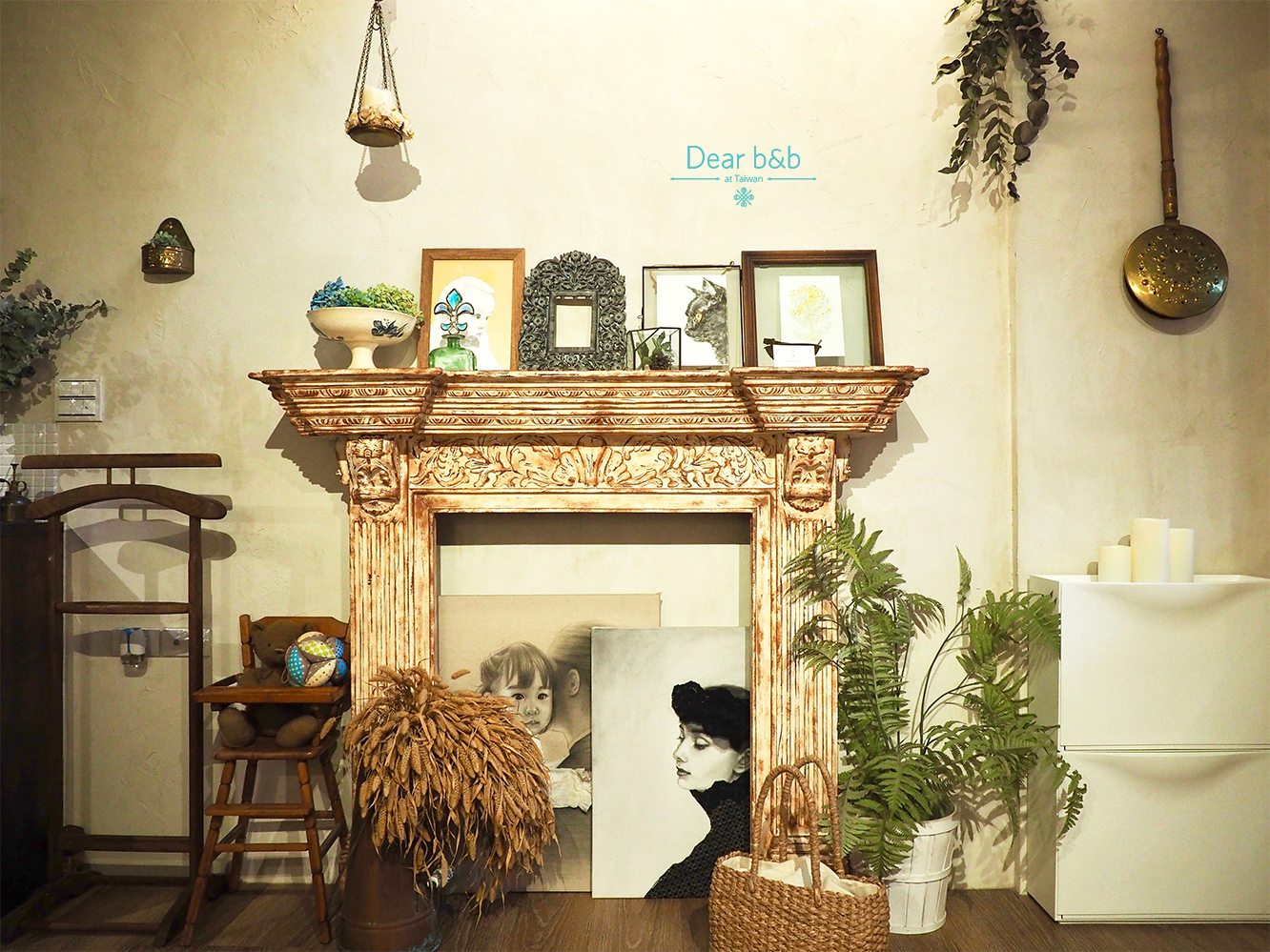 With art in her heart, she built a space with a meaningful cause
While she was in England, Ruxin started to exchange overseas letters with her current husband, and surprisingly discovered that they used to live on the same alley in Tainan but never met then. When Ruxin was back in Taiwan, the two got married and had the first child in Ruxin's third year as an art teacher. To accompany their child growing up and to build an ideal space for teaching art to children, Ruxin began to formulate ideas of integrating a kids' art classroom with a lodging. In this way, she would not only be able to put her enthusiasm for art education into practice but also have the space to accommodate artists and instructors from elsewhere as a support for them.
With support from her husband, Ruxin began to search for a suitable place. After a few twists and turns, she finally purchased this old Tainan row house that was then turned into Made in Heart Kids Art Studio and House. Remembering walking into this more than half-century-old house with the front yard covered in wild grasses, but the moment the sunshine poured down, she was able to picture a garden full of imagination and remodeling ideas in her head. As buying a property and starting a business had certain risks, Ruxin secretly embarked on renovation work without telling their parents so as not to worry them. Laughingly said that she had to say, "I'm going out to buy something!" and quietly brought her child along to oversee the old house's reforming every day. Over a three-year course, she pieced together bit by bit her dream with art studio completed first and then the lodging. When asked the origin of the name "Made in Heart," she said she came up with the English name first, as the spelling of "heart" contained the word "art," it is like embodying the meaning of "having art in one's heart." The clever idea made listeners smile and believe that it was the dedication to art that allowed Ruxin to build such beautiful studio and lodging.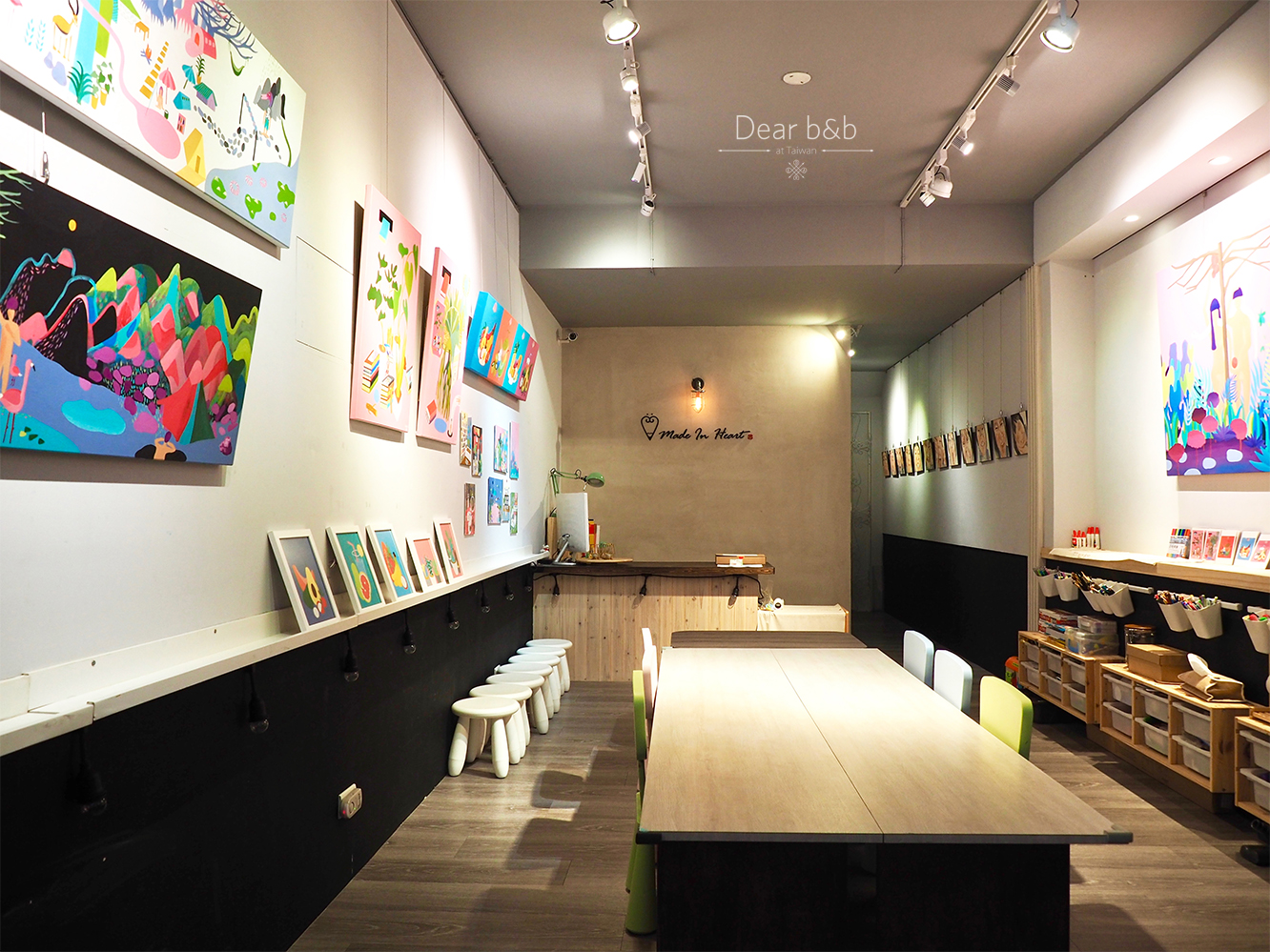 Inspired by the old house's free will and built upon love
The next year after opening the studio, the lodging finally came to completion. When walking inside, one could find traces of art at every corner pairing with antique furniture meticulously arranged by Ruxin. When asked about her inspiration, "The house has its own free will," said gently but with determination, she told us about the renovating ideas that organically evolved as she was impressed by its mottled red-brick walls and pitched roof.
We also asked about if her husband had contributed some ideas to this house of aesthetic beauty, Ruxin just shook her head and laughingly said, "Though he graduated with a degree in Architecture from National Cheng Kung University, he doesn't have an artistic sense." Nevertheless, he still had a dream of reforming an old house, and what he was good at was not changing the house's look but strengthening its construction structure. So he not only drew the structural plan but also learned some carpentry skills and helped paint the house. "What he did is like water and air, one would easily ignore their presence, but his work was the backbone that brings the house into life," Ruxin said emotionally without joking anymore. As her romantic fantasy was supported by the resolute steel framework, the modern fairy tale was turned into reality.
Before we left, Ruxin waved us goodbye while we still felt her tenderness with a lot of caring and encouragement in her words. The Snow White, not only with a dreamy look but courageously put her ideals into practice with the devotion to art and aesthetics. As she dedicated herself to art education and this wonderful lodging, she also drew up a key to life from the bottom of her heart, opening the hearts of travelers.