The Free and Soaring Soul
Grace's impulse to break through the barriers stemmed from the yearning for freedom. After college, the wanting to escape from the urban environment that polluted her body and soul propelled her to leave Kaohsiung for Hualien with little baggage. As she flapped her wings, it led to a seven-year-long unfettered flight. When asked if she was ever worried about the difficulties on the way of the adventure, the sparkles in her eyes just told us that, rather than an impetuous decision, it was a determined flight with faith. She said: "I just embrace the spirit of freedom wholeheartedly, and I always carry out the ideas emerging in my mind right away."
When speaking of the romance between her and her husband, Grace laughed and said that, perhaps because of her stubbornness, she didn't alter herself a bit when being in love. At the beginning of the relationship, she even asked her then-boyfriend to show his ID for verifying. The two met in Hualien and took the wedding vows just after they went steady for half a year. As two freedom-loving people, they bumped into some ups and downs in the marriage, but they also worked together to seek the balance in the married life. "Marriage is a process of adjusting and supporting each other, you would have to know what kind of life you want and try to work it out." As for Grace, instead of fiery love and dramatic break-ups, slowly forming a genuine companionship would be true happiness.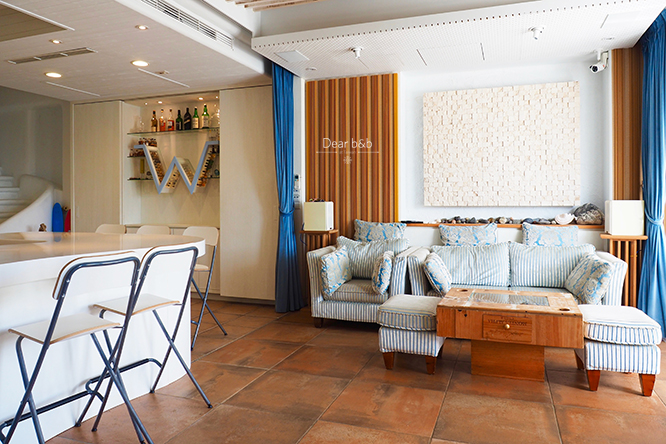 Build a Home of Love and Dreams in Kenting
To open up a b&b in Jialeshuei, Kenting was actually realizing the dream of her husband. They met with this old building by chance, which was not so far from the azure sea nor overly crowded with tourists, thus they decided to bring the image of a pure white ideal building into reality. Grace said with a smile, that her husband, who was in the military, managed the housework in a more meticulous way than herself. Not only did he hand-crafted wooden furniture, but he also learned to cook diligently. Due to his occupation, he couldn't live with his family, but the house they built together would always be his home of happiness.
Recalling the past of raising kids without her husband around, Grace had this tender and happy look with motherly love. "You have to be a mother to learn how rebellious you were in the past!" While taking care of her children, she has always reflected on herself. Although she was strict about the kid's lifestyles and manners, she would never be overly protective when kids were faced with choices and self-exploration. From the way she talked about her kids, we all felt deeply that, with her firm love and accompanying, Grace hoped for them to find the skies of their own to fly, just like their freedom-loving mother.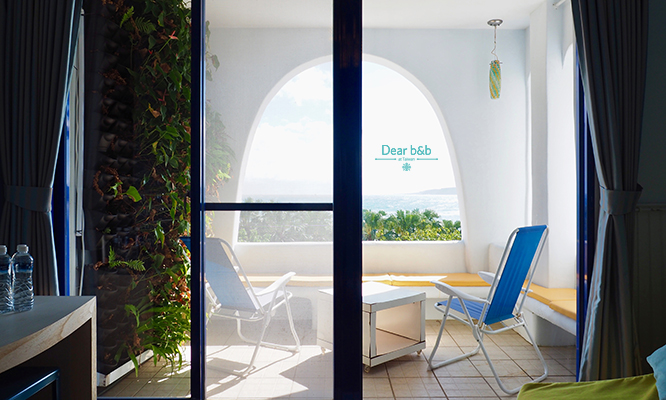 The Life at Summerwings B&B with the Freedom of Sunny Beach
"We all have to learn to lead a life with a life-long purpose. On the road of life, we should not gaze at each other, but look towards the same direction." In the future, Grace said she may take the kids to Kaohsiung to study, and her husband may return to Kenting after retiring and spice up life with his love for cooking. Even in the face of countless choices at different stages of her life, she still knows well what she is longing for in the future. Wherever she goes, she will surely lead a cozy life that she depicted in her mind that summer and embrace the sky of freedom above the sunny beach.
From determinedly leaving home to finding her love of life, and returning from the eastern to southern Taiwan, Grace has flown over an unexpected life with ocean blue. In Jialeshuei, where waves whispering with ever-summery sunlight, she and her husband eventually built an ideal life in the pure white house, shining with the warmth of love, this is the place called home.