A sweet and reserved breakfast romance
Like an old-fashioned campus love story, Shing and Hong used to study in the same lab while earning their postgraduate degrees in biomedical science. On one occasion, Shing asked Hong a simple favor—to get breakfast for her the next morning. Little did she know, the considerate Hong would continue delivering morning feasts to her from that day forward. Not only did he provide a full list of breakfast eateries for Shing to choose from, Hong also took care of Shing's friend's needs. As time went by, Hong gained Shing's trust and affection, and eventually won his position as her boyfriend.
However, this romance, which began in a lab, was not always easy for Hong. Worried about losing face, Shing felt awkward makinging their relationship public. During the first six months, Shing asked Hong to leave the lab through different doors, and only after they left the campus was Shing willing to hop onto Hong's scooter. Finally, one day, their labmates revealed that they all knew about their relationship, after which Shing could finally hold Hong's hand on campus with ease. Since then, they've walked hand in hand throughout the next ten years.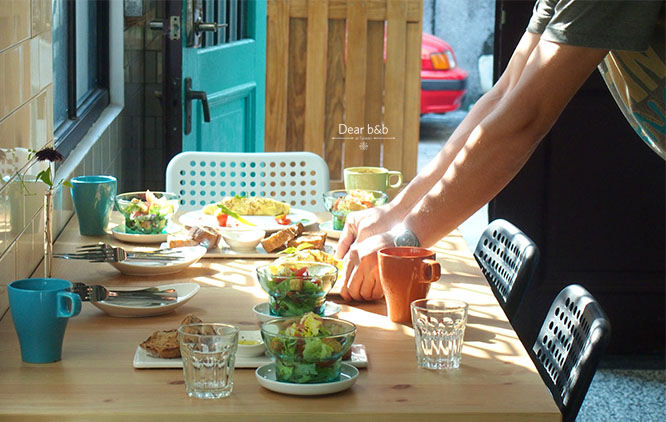 Multiple skills earned after a journey of career exploration
After graduation, instead of choosing the usual road for a science graduate, Shing joked about starting down an "easy and playful" career path. She first partnered with her older sister in opening a bakery, but had to close down due to their costly insistence on using high quality ingredients. Following that she started another business planning parties and weddings with a friend. In order to do a good job, she had to acquire knowledge on western cuisine, therefore she undertook apprenticeships in both a famous chain restaurant and a high-end French restaurant. With both theoretical and practical training, she developed a strong background in western cuisine. Moreover, she later attended a months-long professional barista course before becoming a professional barista was even a thing in Taiwan. Shing put her intense passion into every learning opportunity that presented itself and acquired a number of high-level skills.
With a soul that knows no quitting, Shing even worked for a time as a butler in a Kenting guesthouse. She treated this opportunity as if it were her lifelong career. She learned how to operate and manage a guesthouse and gained a deeper insight into the accommodations industry. In her opinion, although fancy guesthouses might always have a market, she wants to offer comfortable and convenient guesthouse-level services and facilities at hostel-level prices. What's more, her guests should all get to savor her impressive western cuisine. This is the philosophy she maintains and the path she has chosen for With Inn Hostel.
All the while, Hong had been working solely in Kaohsiung, which seems to have not much to do with operating a guesthouse. In fact, the moment Shing decided to open her own hostel, Hong was there to accompany her in location hunting, furniture shopping, and every other conceivable task along the way. Shing said with a smile, "he has always been there supporting me!"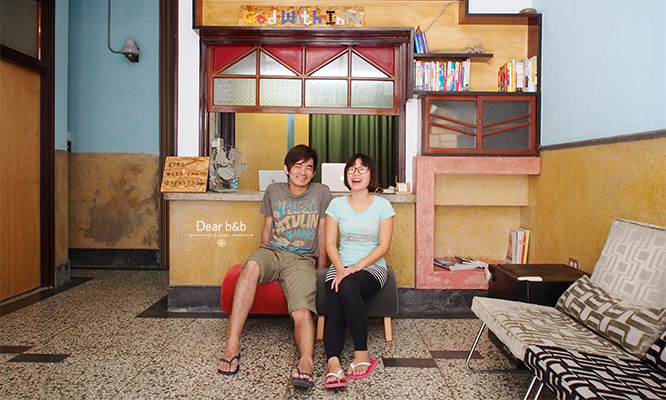 Two perfectly complementary personalities
A typical Virgo, Shing is a perfectionist at work. In contrast, Hong believes that things just need to be "good enough.". With their opposing philosophies, they inevitably quibble over the daily operation of With Inn Hostel. However, Shing always seeks to solve their conflicts with sincere communication, while Hong never fails to embrace Shing's opinions and gently support her. She loves his tender and pure mind; he loves her persistence. Perhaps, the most essential element in their long-term relationship is their complementary personalities.
We asked them for some tips how they've gotten along with each other all these years, from their early campus romance to marriage. Shing teased, "because he's easy to control!" Hong, sitting beside her, didn't object, and just offered a shy smile. Whenever Shing finds a worn-out light fixture in a room or a shortage of essential supplies, all she has to do is call Hong, who immediately appears to solve the problem, like a planet revolving around and protecting its shining sun.
Shing told us that the reception desk in the small living area is their favorite place to hang out, because that's where the whole family used to cook and make dough together. Just by sitting there, they feel a sense of "home." With Inn Hostel is not just a hostel, but also a loving abode for Shing and Hong. Because after all, happiness is being together.