Countryside memoirs of a happy encounter with wood
Pushing open the low, wooden gate, you enter a garden filled with lush and vibrant flowers and plants. Red dragonflies accompany you down the crushed stone pathway right up to the front door. On the veranda, you find a sturdy wooden shoe cabinet above which a blackboard has been colorfully decorated with the words "Meishiou B&B: lodging, woodworking, playful life." You open the door to a room full of richly colored wooden furniture, giving the interior the feeling of a small forest. Lifting your head, you see a beautiful scene of blue sky and green trees out the window, and you feel as if you've entered the home of a fairytale elf!
This fairytale-like home and all the beautiful furniture within is a product of the hard work of your hosts. The doghouse in the entrance is your hostess Meishiou's first woodworking project, to create a warm little corner for her beloved dog, Bogi. She has since transformed herself into a stylish female carpenter! She dragged Piety, who loves DIY projects, into her plan, to become her number-one helper. Piety's passion for carpentry, however, originates from his inherent desire to get his hands on everything around him. He once even helped SGS to do inspection work! Eventually, they built a tiny woodworking shop behind their house, helping to establish their dream home.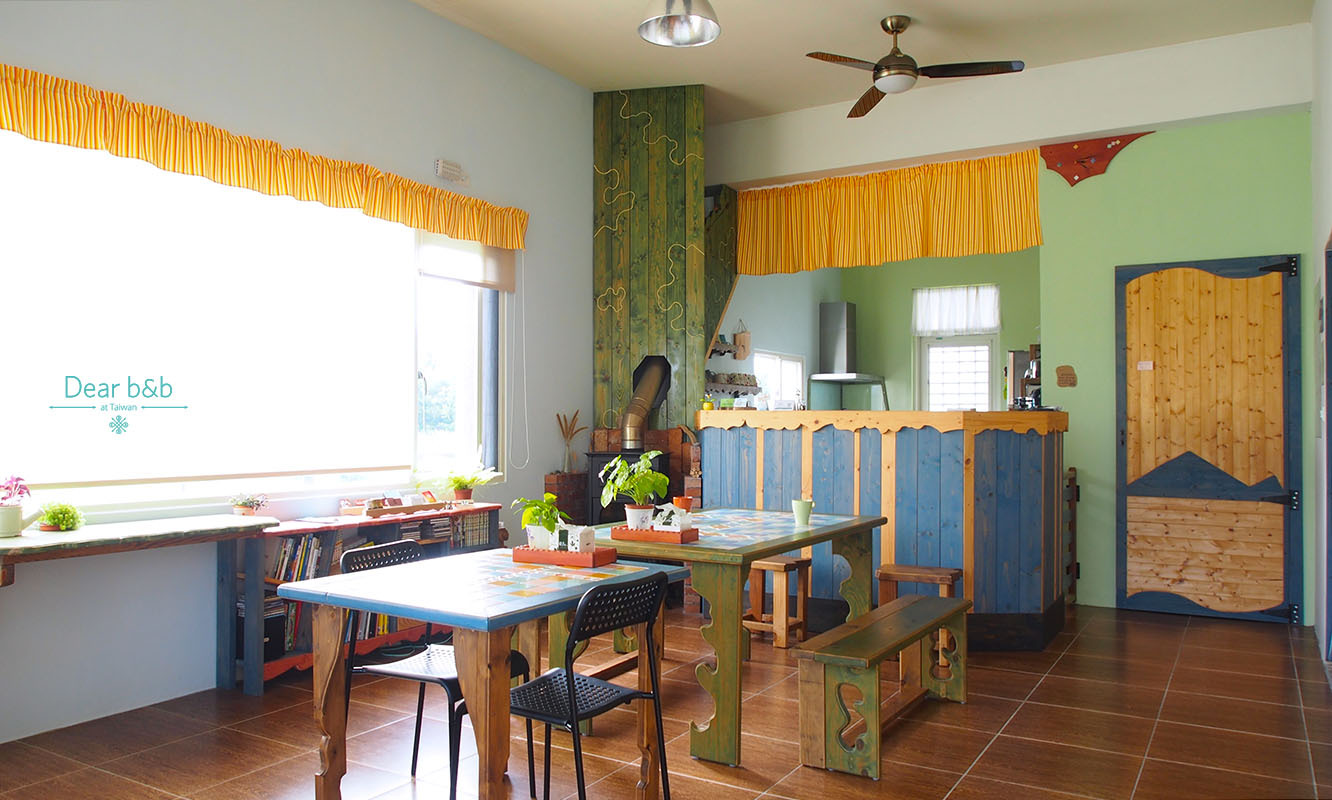 A cozy, warm woodworking shop, a miniature tri-color fairytale
Going up stairs, you see Meishiou's creativity in the natural tri-color decor: red, blue, and green. Each room seems to embody its own miniature fairytale. The first page of the tale tells the story of a sunflower growing up in a safflower garden. With multi-colored pillows and tender-colored walls, the "Red Room" is a little paradise just for you and your furry friend, set up to give you the most delightful experience before settling in for bed.
The second page of the tale tells of an elf's fantasy adventure in the green forest. The "Green Room" is the only four-person room at Meishiou B&B, serving as the perfect secret base for you and your friends to share a vacation together. A red dinosaur dangling from a floating balloon drifts up near the ceiling, the clock on his belly tick-tocking away as if to suggest that this is the moment for a joyous adventure to begin!
On the third floor, you open the third page of the tale, where a mermaid princess shares her story about the world beneath the sea. The "Blue Room" has an elevated wooden floor with a row of tall blue waves for bed headboards. This room has the only bathtub, and it's pink, like a romantic blessing from the mermaid princess.
A fairytale home converging with real life
In the morning, you walk out onto the balcony, take a deep breath of that fresh, clean Yilan air, and catch a whiff of a delicious breakfast cooking! Soy milk, a fresh fruit and vegetable salad, mashed potato balls, soft- boiled eggs, and perfectly toasted bread combine for a simple yet perfectly energizing breakfast. If you're intrigued by Meishiou and Piety's woodworking life, you can book a seat in Friday's woodworking course for a chance to hammer around with Meishiou in the workshop! Different than your standard carpentry course, Meishiou enjoys using love to create woodcrafts with her guests. Piety humorously refers to their workshop as their "delivery room" where you can experience with your own hands the satisfaction of creating things from wood.
The warm feeling inside the house is just like the interaction between Meishiou and Piety – comfortable and cozy. When they met each other, one had just completed a job, while the other had fallen in love with hiking as a way of coping with a break up. They began hiking, fishing, and bicycle-riding together - they've even conquered half of the hundred highest peaks in Taiwan. Having an unspoken understanding of one another, they began to construct their guesthouse together. They've been through a lot in their countryside life; even though Piety recently fell seriously ill, the illness was unable to defeat them as they faced it with unyielding optimism. This fairytale-like home is not simply a physical building. Even more so, Meishiou B&B is a product of the charisma of its hosts.