"Juice, best of the best." Taiwanese boba has unique vitality and creativity. In previous issues, we led you to taste fine tea, bubble milk tea, and other creative drinks with various add-ins. However, the fruit drinks leading the current trend cannot be missed. From the traditional fruit stands and fruit tea sold in boba shops to the vibrant gradient color made from different fruit, you get to enjoy the sweet aroma, plump pulpy fruit and the delightfulness of young hearts. With one cup of juice in hand, your day will be fresh and juicy.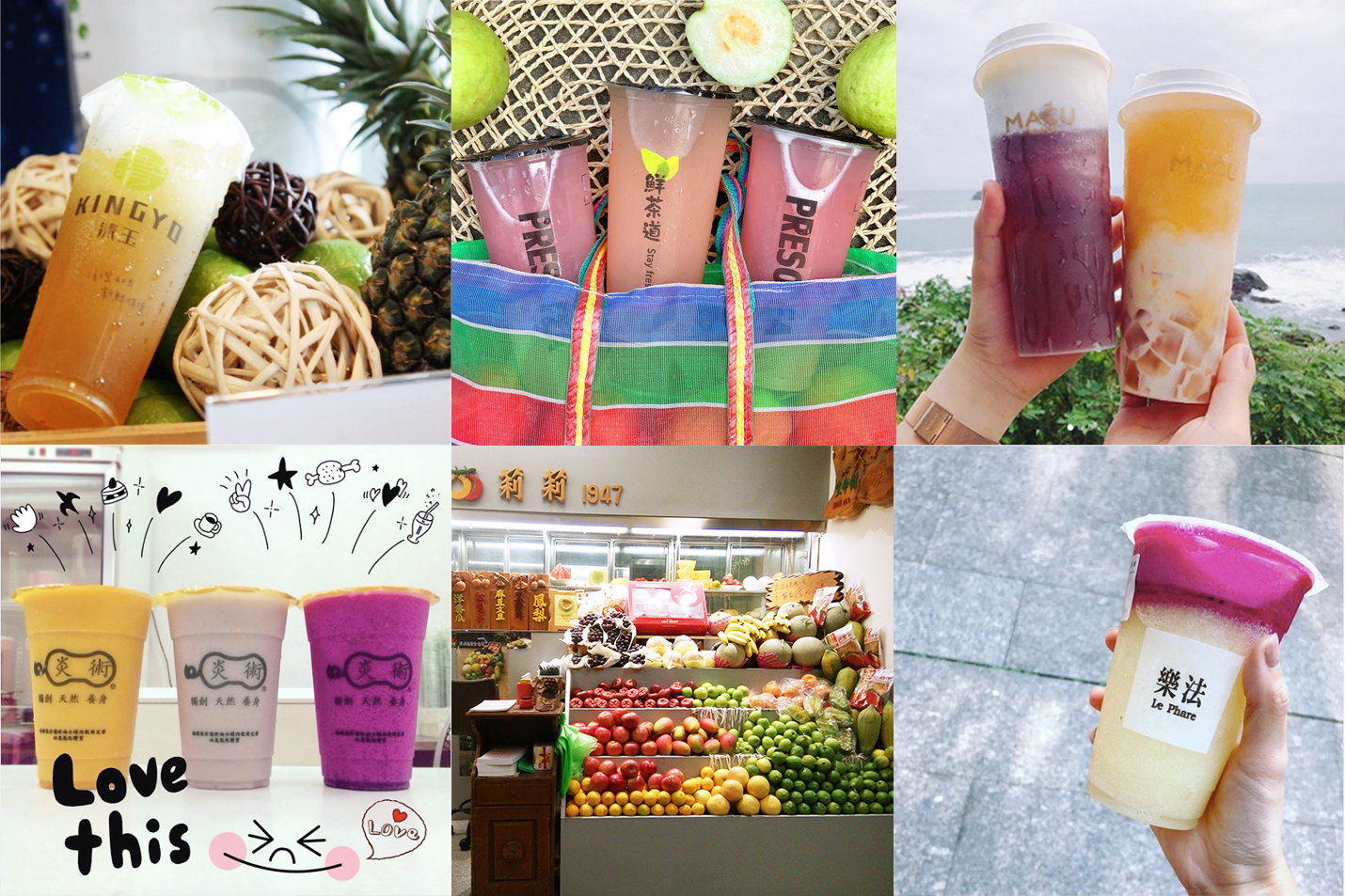 ( Photo Credit: 清玉、鮮茶道、foodie_capig、Dear b&b、JennyElin、natsumi.tsou )
Taiwan, the Kingdom of Fruit: Fruit Stands and Aromatic Fruit Teas
Taiwan abounds with fruit. Various fresh fruit can be found each season in Taiwan. In-season juice is also a must to relieve summer heat; orange juice, starfruit juice and kumquat lemonade are the frequently-seen ones in night markets. Early in 1947, fruit stores started to offer juice and Lily Fruits Store is the pioneer. Exhibiting fruit neatly in a refrigerated display case, traditional juice stores offer freshly made juice, which has become an everyday scene in Taiwan. In the 1970s, Milk King featured their classic papaya milkshake and in-door seats becoming the favorite of young people at the time.
Later, because of the popularity of boba, other fruit like lemon, orange, and passion fruit successively become ingredients for making tea, like what are sold in Presotea, Macu and Mr. Wish. Fruit tea with various kinds of fruit slices and pulp hit the market; Yifang is one of the earliest representatives. Besides, many teashops feature drinks with a particular fruit. For example, in 2013, Kingyo, starting a business in Taichung, expanded branches to Taipei. Jade Lemon Tea made with their "golden ratio" recipe once went viral. What's more, Le Phare's apple series is especially popular, like apple and strawberry juice containing the extraction of three apples; there are also green tea with watermelon exclusively for summertime and green tea with dragon fruit and cream limited for winter. Yan Shu in Puli, Nantou is another representative famous for vegetable milkshakes, such as sweet potato, taro, and squash milkshakes. Whenever traveling there, we will definitely seize the opportunity to savor one of them.