It's vacation time in the final season of the year, perfect for taking a healing trip to revive your mind and body! Taiwan has the highest density of hot springs in the world due to its location on a convergent tectonic plate boundary. There are approximately 128 natural hot springs spread across the island of Taiwan. During the Japanese colonial period, the Japanese opened the first hot spring hotel, bringing hot spring culture to Taiwan. This issue represents Dear b&b's first selection of Taiwan's best hot springs, presenting you with a variety of experiences: from the basic public bath houses and private bathrooms (this issue), to more advanced experiences such as wild hot springs that require greater physical ability to access and enjoy (following issue). What's more, we share our pocket list of worth-visiting nearby spots and local delicacies for you to enjoy after each recommended hot spring. From the main island to the offshore islets, let's enjoy the seasonal pleasure of hot springs in winter!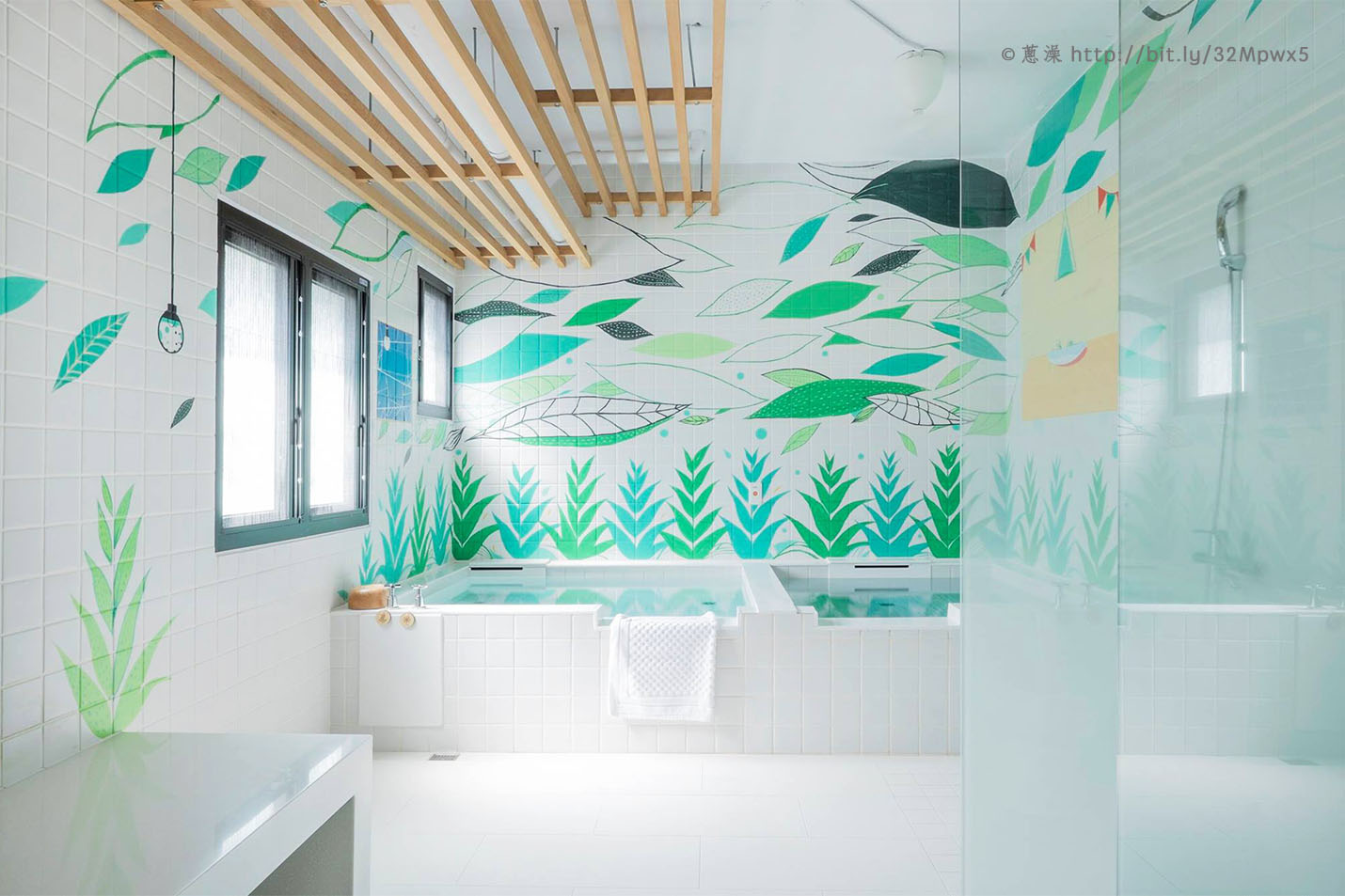 Hot springs in Yilan: explore the aesthetics and natural elements of "beauty springs"
Let's start from Taiwan's only hot springs on the flat plains! Jiaoxi, the hometown of hot springs in Yilan, is famous for its clear and odorless sodium bicarbonate hot springs, which leave your skin feeling smooth after a soak, therefore earning them the nickname "beauty springs." Yilan's beauty springs were discovered in the second half of the 18th century by the Han Chinese while performing land reclamation in the area. Later on, the Japanese began widespread construction of public bath houses during the Japanese colonial period. With the passing of time, you can now see over a hundred hot spring signs around the Jiaoxi Train Station area. Among all the distinctive public hot spring competitors in Jiaoxi, we particularly favor a chic venue that stands out from other more traditional ones, Hot Spring Onion. Each of its private bathrooms is decorated with different graffiti artwork, radiating a youthful vibe and giving you a fresh experience every time you visit. Hot Spring Onion is also equipped with a small bar offering drinks and snacks, allowing you the leisurely pleasure of savoring local flavors after a nice warm bath. We also recommend the nearby Bai-Shui Douhua, a flavor exclusive to Yilan, where you can enjoy bittern douhua made with spring water and topped with peanut maltose and cilantro.
Besides Jiaoxi, don't miss the little-known Jioujhihze Hot Spring in Taipingshan when traveling in Yilan. Driving up into the mountains, you can see distant mountain peaks encompassed by white steaming vapor along the way. Similar to Jiaoxi, the hot springs here are also rich in sodium bicarbonate. Not only is there a public outdoor pool carved out of the rocks along a river, but also private bathrooms and gender-exclusive nude bathing pools. Furthermore, egg-boiling stations beside the pools are a popular side-activity for bathers. Besides boiling eggs, you can also bring your own corn-on-the-cob, sweet potatoes, and simps, to enjoy a delicious, steaming snack after your bath. Other nearby spots in our pocket list include the verdant and tranquil Jiancing Historic Trail, the Bong-Bong Train that takes you through an old timber-transport rail track, and the beautiful foggy scenery of Taipingshan. Last but not least, you can check out Cuifeng Lake, Taiwan's biggest high-mountain lake, which is often shrouded by a mystical fog, awaiting visitors to reveal its true face.