An ecological classroom located on the Old Street
Entering Little Liuqiu's bustling old street district, you come to the bright yellow door of TRUE FDs Inn. Pulling the door open, the host of the guesthouse, Cheng-Nan steps out from behind the bar to greet you. With his love of natural ecology, he has turned his guesthouse into a little classroom devoted to ecological education. The spacious living room provides a place for travelers to interact. From tissue boxes, to the homemade map of Little Liuqiu on the wall, to models of sea turtles, look around to see the entire space devoted to ecological awareness.
TRUE FDs Inn sees all guests as dear friends - all of your questions are welcome. Your host will share information about his treasured collection of sea animal miniatures. The son of a fisherman, Cheng-Nan was born and raised in Little Liuqiu. After high school, Cheng-Nan left the island life for a time to pursue his independence in Kaohsiung. After his daughter was born, he decided to return to his hometown to raise her. He was determined to introduce her to all the beauty of this little island. He applied his experience in hotel management as well as his passion for ocean ecology to create the TRUE FDs Inn we see today.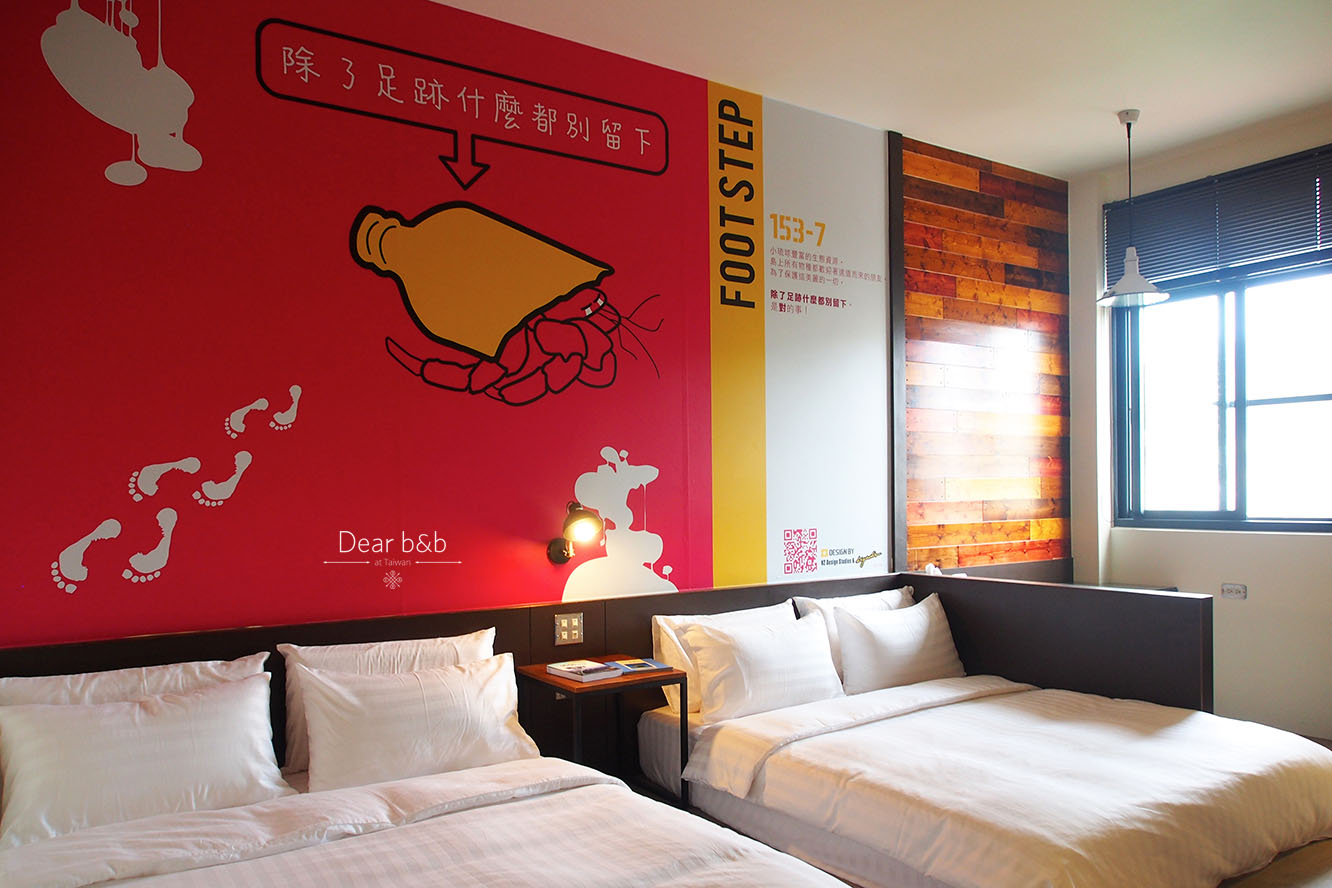 A lesson in seven rooms on the beauty of Liuqiu
The clear, square exterior appearance of TRUE FDs Inn actually contains traditional construction which is long and deep. All seven rooms are decorated in a simple yet comfortable industrial style. The name of each room contains both a story and special local significance. In the "Crab" and "Hermit Crab" rooms, Cheng-Nan urges travelers to "take nothing but pictures" and "leave nothing but footsteps" so as to protect the ecology of Little Liuqiu. The "Fisherman" and "Mermaid" rooms conceal the secret legend of the Black Dwarf Cave, and are most suitable accommodations for two good friends to check into. Furthermore, the "Little Liuqiu", "Ocean Superman" and "Sea Hare" rooms are all well worth checking out.
Beyond the rooms, Cheng-Nan has combined local ecology with cultural creativity in his design, even preparing small gifts for each traveler who checks in. The gift box made of eco-friendly materials can be used as a tissue box, and contains a t-shirt of the nightly theme, postcards, and descriptions in an interesting passage introducing to travelers the nightly theme for their room.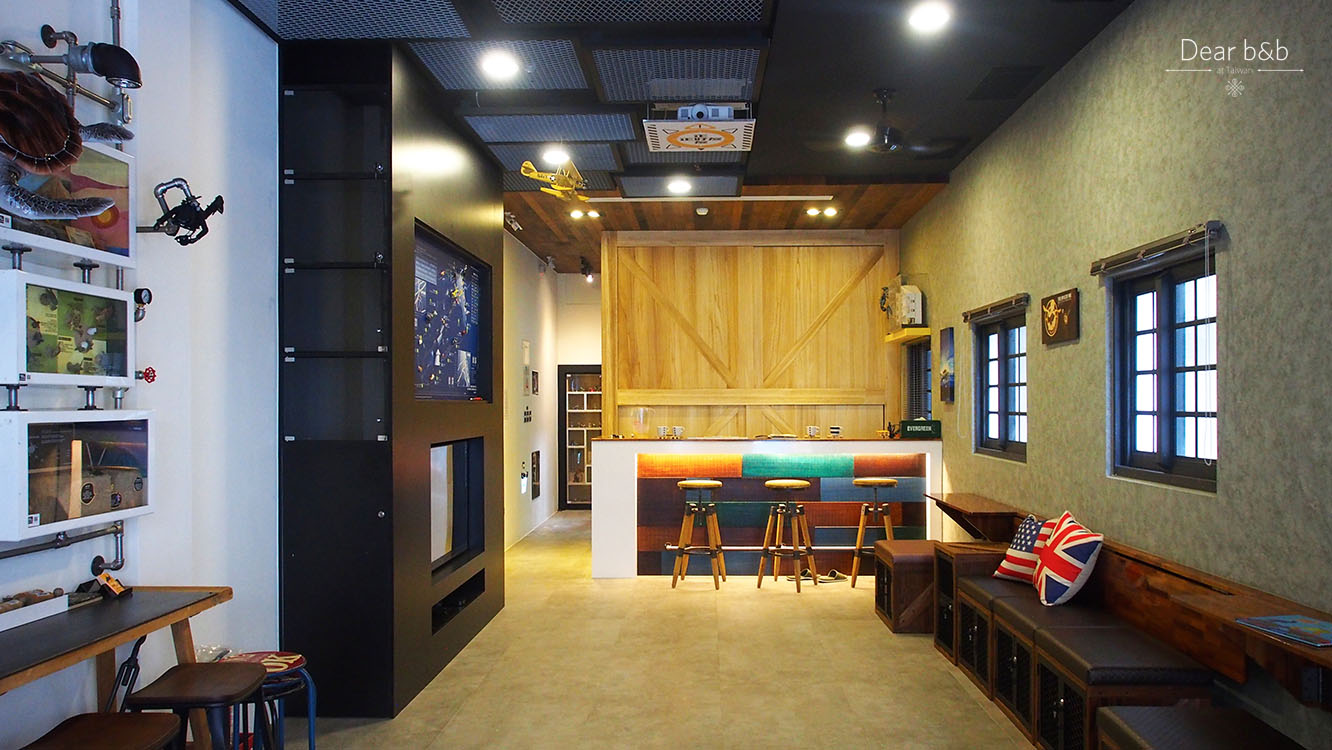 Little Liuqiu: a profound exploration
"Sleeping accommodations are the first and most direct line of contact with travelers!" Cheng-Nan firmly believes that travel accommodations offer the best opportunity to educate travelers. Travelers are usually left with a profound impression of the natural beauty of Little Liuqiu, yet very few people know about the rich cultural history of the island. In the future, Cheng-Nan plans to launch a different kind of itinerary for travellers, allowing visitors to go beyond the educational ocean eco-tourism that is now prevalent, to become acquainted with local culture, and to have a deep experience of life on the island. Furthermore, Cheng-Nan is beginning to promote habitat regeneration of intertidal zones, beach clean-up efforts, and weekly lectures from ecological experts and environmental protection figures. Through this series of discussions, he hopes to allow more and more people to understand ways in which to coexist and thrive within the natural environment.
TRUE FDs Inn is built upon Cheng-Nan's passion for natural ecology, and his dreams and determination are visible in every nook and corner. Above and beyond the wish to offer travelers a comfortable space in which to stay, Cheng-Nan hopes that after his guests will gain a deeper knowledge of natural ecology, and work together to protect the environment, and become friends of the ocean!