Experience the exquisite character of a Japanese-style home
As with every other bed and breakfast in Yilan county, Taiori is tucked away beside farmers' fields, and exudes a generous and friendly ambiance. Even though this is so, it's difficult to miss the sight of it, with its light gray slate wall and wooden door. To one side of the door sit several bicycles and potted plants. Compared to the other cement buildings in the area, Taiori radiates a different kind of warmth.
Opening the doors and stepping forward, you immediately smell the rich aroma of solid wood. Above a long wooden table, a Japanese-style water kettle hangs peacefully from a hook over a charcoal burner. A colorful Japanese-style flag bearing the name of the bed and breakfast hangs on the wall in the entrance. Symbolic in Japan of a plentiful fishing harvest, the colorful red fish leaping into the sunshine between Mount Fuji and a magnificent sea wave seem to represent the feelings of satisfaction and abundance that Taiori hopes to give to every guest. Your hostess, Shan, approaches and greets you in her delicate voice. Her genuine smile gives every traveler the feeling that they have arrived at a traditional Japanese household, and are about to experience the meticulous attention to detail characteristic of the Japanese.
"Our original motivation was to allow people to travel to Yilan for a vacation, to eat local fish, and discover the deliciousness of Taiwanese fish!" With his wife Shan's support, Wesley exacting tastes realized that no other bed and breakfast had yet combined the local seafood of Yilan with the hot springs for which Jiaoxi is famous into a single space. So they took the initiative and constructed just such a landmark restaurant guesthouse which is now in high demand.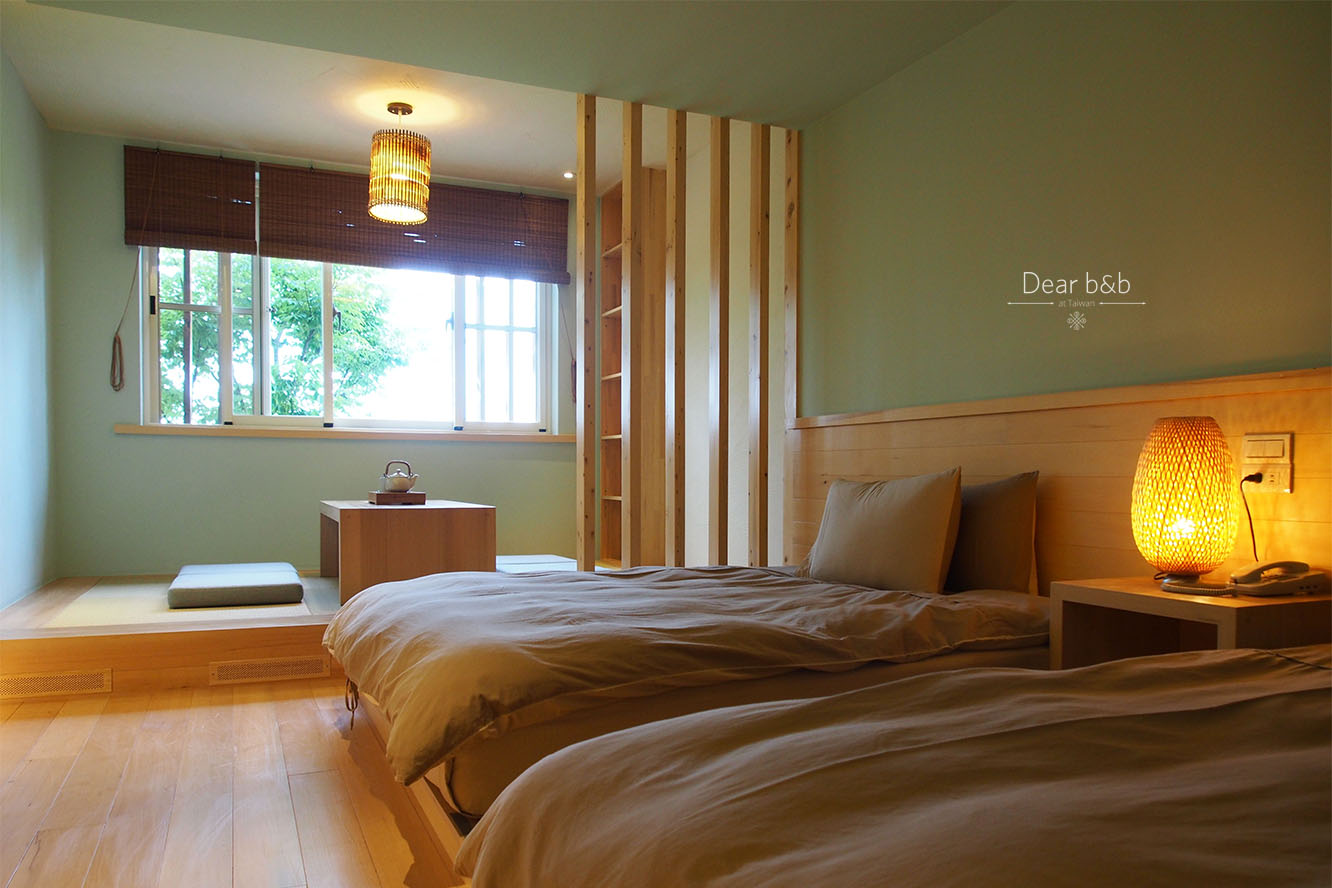 Experience the warmth of slow living
When you arrive at Taiori with its solid wood construction and head upstairs to the second floor, the symmetrical rooms left and right both consist of comfortable two-level spaces. The bedrooms contain soft beds and a full wall of windows overlooking the vast fields beyond. After soaking in the hot spring bathtub, you don a supple bathrobe and sit in the Japanese-style space sipping hot tea and playing Chinese chess. Turning your head, you admire the bright green rice paddies outside the windows. During migratory bird season, black-winged stilts with their long, slender legs can be seen wading slowly through the fields.
The upper level of each room consists of your very own private hot spring spa which, however small, is brimming with character. The spacious hot spring bathtub is large enough for three or four friends to enjoy without feeling crowded. Bathing in the gentle hot spring water of Jiaoxi, while sipping a glass of ice-cold sake wine and marveling at the meticulously manicured Japanese garden outside the floor-to-ceiling windows, you feel elated and content.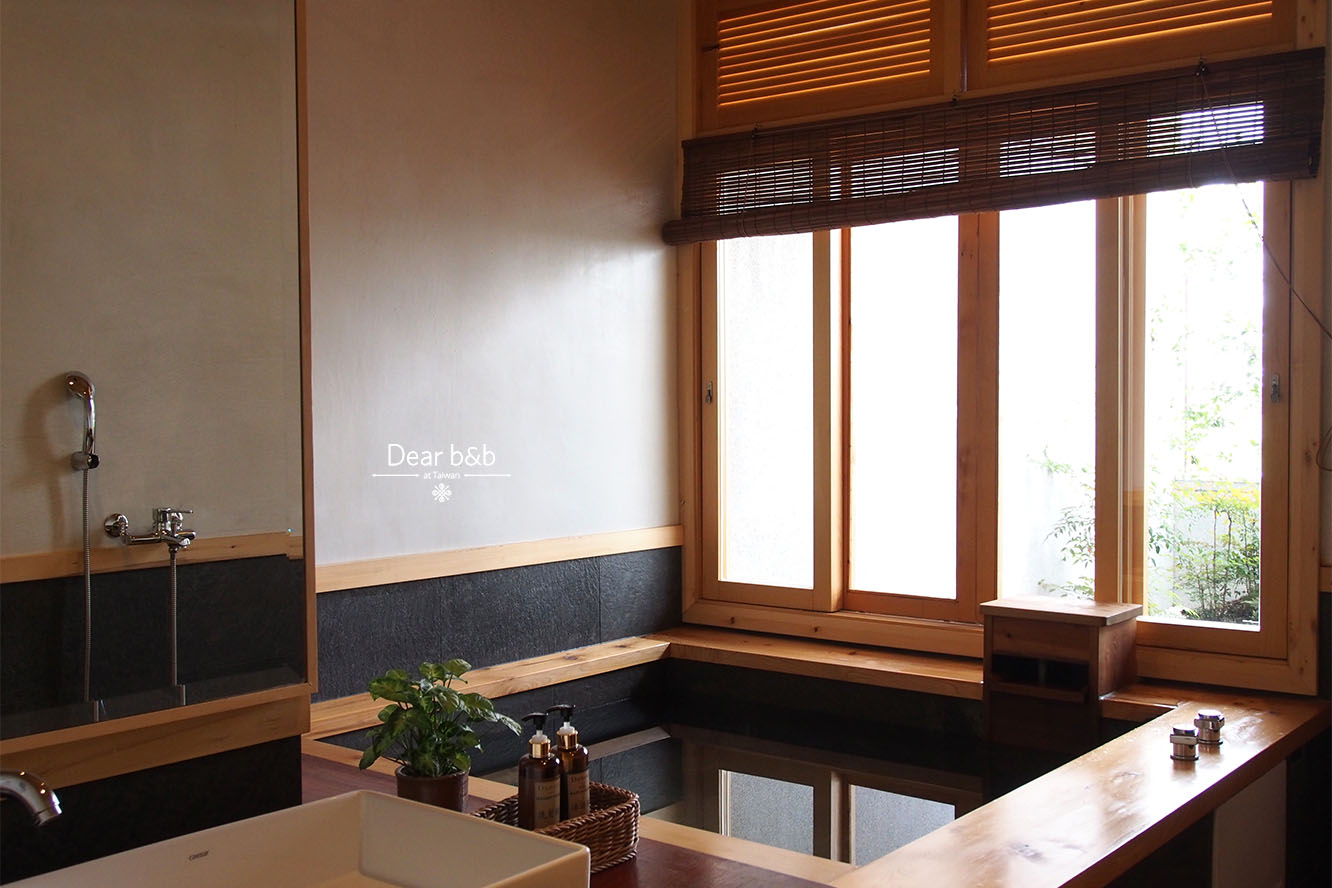 Collect for safe keeping all the delicious memories
For the gourmand traveler, the most fascinating element of Taiori B&B is obviously the sumptuous evening meal. When he was a boy, Wesley fell in love with eating and enjoyed helping his mother in the kitchen. Stationed in Shitiping, he often joined the fishermen at sea, experiencing firsthand how to eat freshly caught fish raw and straight from the sea. Seizing the opportunity to open a restaurant beside the Shitiping Harbor, he learned the ropes for cooking seafood while consulting his indigenous chef friends. To this day, Wesley still makes daily trips to the harbor to select the freshest fish, always striving to prepare a unique seasonal menu just for you.
Appetizers consist of Yilan's famous smoked duck and handpicked seaweed. Japanese Jack mackerel, Oriental tuna, and sweet prawns caught fresh that evening are prepared into sashimi, allowing you to savor their most authentic flavor. Precious harlequin shrimp and red big-eyed fish are served lightly salted and broiled to perfection to preserve the delicate freshness of the meat. The seasonal main dish is fried on a pottery skillet: anglerfish liver, testes, and maw served with a rich variety of vegetables and mushrooms, paired with a clear soup and light brown Japanese soy sauce. The sweetness of the veggies perfectly complements the savory fish in mildly salty sauce to produce an indescribable array of flavors. The meal is followed at last by a bowl of miso soup and a kumquat slushie. Using the authentic flavors of the best unadorned ingredients, tonight's meal leaves you with an unforgettable dining experience.
In operation for nearly nine years, Wesley and Shan have not lost their passion for life. Through the hot springs of Jiaoxi and their deliciously sincere intention, they take care of the heart of every traveler. Between blue sky and green fields, they have created a happy safe harbor, providing you with relaxation and peace of mind.