The first bouquet sold brought the warmth of encouragement
The two met in a gathering, and it turned out to be their starting point of building the dream together. Born into a family that valued aesthetic design, Spark had always been interested in the floral art since he was a child. Under the guidance of an instructor, he began to learn pressed flower craft as a pupil, and even published a book on the craft. As the enthusiasm from childhood constantly watered the garden in his heart, he dreamed about opening up a floral shop, b&b, and even an aquarium. And therefore, he chose to study in design in high school and college, in order to realize his own longing for creating appealing spaces. And in the meantime, he also continued to play with his favorite plants and flowers.
As a graduate of National Cheng Kung University with a degree in Industrial Design, Aqua started a career in the technology industry, designing products and software interfaces in Northern Taiwan. During that period, he worked under huge pressure and dealt with fast changes every day. At work, he had to face cold machines, thus in his off time, he always liked to commune with lively plants in order to balance the hard and cold work life. Gradually, he has developed the interests in succulent plants and dried flowers.
Aqua and Spark met and then discovered that they shared the same interests in flowers. They started to join the market in Huashan Creative Park and other markets as a vendor of dried flowers and simply enjoyed sharing what they loved with others. The first bouquet they sold was in a drizzling rainy day. As only a few people visited the market, they didn't expect to have any customers in such bad weather. However, a traveller from Hong Kong stopped at their stall and picked up a bouquet. While wrapping up the flowers, they chatted with the traveller. And Aqua and Spark just realized that, like they were encouraged by this unexpected customer, people in this crowded city could use some warmth from others as well. Thus, as the beauty of their dried flower bouquets has been seen by more and more people, Aqua and Spark have found the newly inspired selves and the future they were eager to pursue.
Work hard happily, and work hard to be happy
Planting, purchasing, packaging, and vending in the markets, originally as a hobby, the business of dried flower turned out to be another door for Aqua and Spark's life. Auqa found himself losing the passion for industrial design, as dealing with similar interface designs and codes daily limited his vision of life. On the other hand, Spark was the one who had a long- term sight, and from the sense of achievement, he found the stairs leading to the possible realization of their dream. Together, they spent three months building "Saw Green Studio" in Taipei. Aqua then quit his job in the technology industry, while Spark also fully invested in the studio. They were determined to follow their hearts and bring the dream of dried flowers to full bloom!
Aqua and Spark, who loved to discover beautiful things in life, continued to search more inspirations in the field of dried flowers. Back then, there were neither many people acquainted with dried flowers, nor teachers or experts with professional authority in such field. They just delved into Japanese books on flowers, went on Pinterest to find photos as models to learn from, and went to Neihu Flower Market at 4 or 5 a.m., buying flowers to experiment boldly with repeated practices. Even though the heavy work kept consuming their energy and money, they were propelled by their huge enthusiasm. Eventually, their efforts were seen and they even became friends with some florists. Although the two occasionally fought, they still complemented each other, as Spark was the one with more sensibility and Aqua was the one with more sense. Spark has always embraced challenges and been persuasive about ideals, while Aqua would calmly analyze the picture and help Spark overcome his impetuosity.
"Work hard happily, and work hard to be happy," said Aqua, tilting his head to one side with a shy smile. The pursuing of ideal would be like this. Those who with great dreams bore sweet responsibilities, and even if the hardest part was being responsible for themselves, their eyes still sparkled with ideals.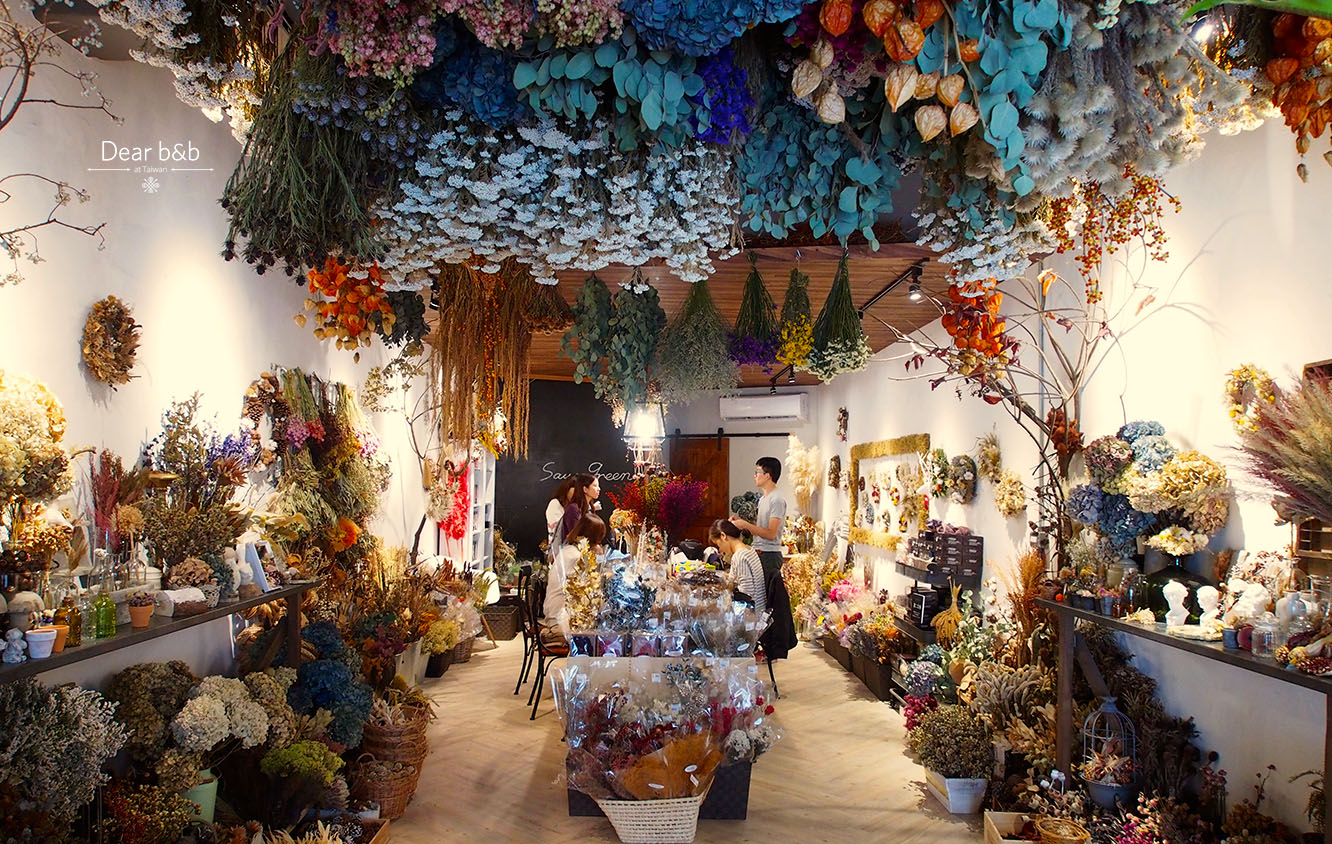 The big boys who sell the bouquets and tell the stories of time
After running "Saw Green Studio" in Taipei for two years, in 2015, the two went to Aqua's hometown in Tainan to open "Saw Green Space," which incorporated the lodging space with a floral studio. They began being on the run from one establishment to another, shuttling between Taipei and Tainan. Being detail-oriented, they personally made a lot of effort making sure that every aspect of the space lived up to their standards. One minute they were at the coffee shop next door teaching a lesson on dried flowers, the next they were at the lodging space doing renovation work. In the past, they only went to Tainan to join holiday markets; but now, they brought their dream back to the place where they could lead a down-to-earth life. They wanted to let people see the beauty of dried flowers and smell the scent of greenery on the street of Tainan, so despite the difficulty of realizing the dream, they still kept working toward it. As their sweat and tears were dried in the sun, they preserved the dream just like preserving dried flowers.
The story of Aqua and Spark building the dream was like the changing beauty of dried flowers in different periods – they assigned new life to the things once lived. And what made them willing to keep going, was actually the wonderful exchange that came with each teaching session. They both coincidentally said, "Teaching would fire each other's enthusiasm." In the field of dried flowers with the ever-changing warmth of life, everyone could deliver his or her own creativity. "Sometimes, I also found what I have overlooked in my students. Teaching is the process of being sought and at the same time enriching oneself constantly." The two boys, who sold the bouquets and crafts, worked hard to collect the fleeting beauty of life while pursuing their dreams, embracing the time and memories belonged to themselves wholeheartedly.
"You see, SAW stands for Sun, Air, and Water." Aqua and Spark explained the secret symbols hidden in the text. They were like two floral wizards, holding the magic wands and turning these essential elements of life into the beautiful bouquets of dried flowers behind them. With the accumulation of time, one single flower turned into a bouquet, then eventually transformed into a floral forest of dreams, elegant and heart-warming, pure and eternal. The gentle ideal of Aqua and Spark was like the afternoon sun we met that day, like the bunch of sun-baked flowers, and like the water molecules that watered the dreams and moisturized the life.