"I grow the vegetables you love and plant the flowers for you to arrange."
Wearing a black tank top, short hair, and smiling eyes behind the glasses, Su Hui warmly welcomed you, sharing with you a box of Taiwanese wedding cakes received that morning from one of the previous visitors. With a 14-year experience as a wedding planner, Su Hui had also taught floral design and used to have a dream of opening a restaurant. Her great taste in aesthetic lifestyle has shown from the presentation of breakfast dishes to the flower arrangements displayed randomly at the house, in which one can feel her enthusiasm. Speaking of how she met with Qing He through matchmaking, Su Hui revealed that from the love at first sight to the marriage they walked into, along with raising children together, their sweet love had grown deeper year by year. It turned out that the crescent-shaped eyes on her smiling face embodied the weight of happiness and abundant love.
According to Su Hui, Qing He, who formerly served in the military, always said, "I won't help you, you'll have to do it yourself." Though he claimed that he wouldn't be involved in the operation of the lodging, he worked in the farmland from dawn to dusk. As a result, the barren fields that even weeds wouldn't grow had turned into a green land. Qing He looked serious and reticent at first sight, and even though he didn't like eating vegetables, he talked about the crops he grew passionately, "What I grow is all her favorite!" The everyday life built upon love was demonstrated through this simple statement. In the courtyard, a few swaying bridal wreath spireas were also planted for Su Hui to use in floral arrangements. Who says that happiness can only be expressed by the flowers and wine reserved for certain occasions? As Qing He said, "I grow the vegetables you love and plant the flowers for you to arrange." The thoughtful actions with love are the true romance.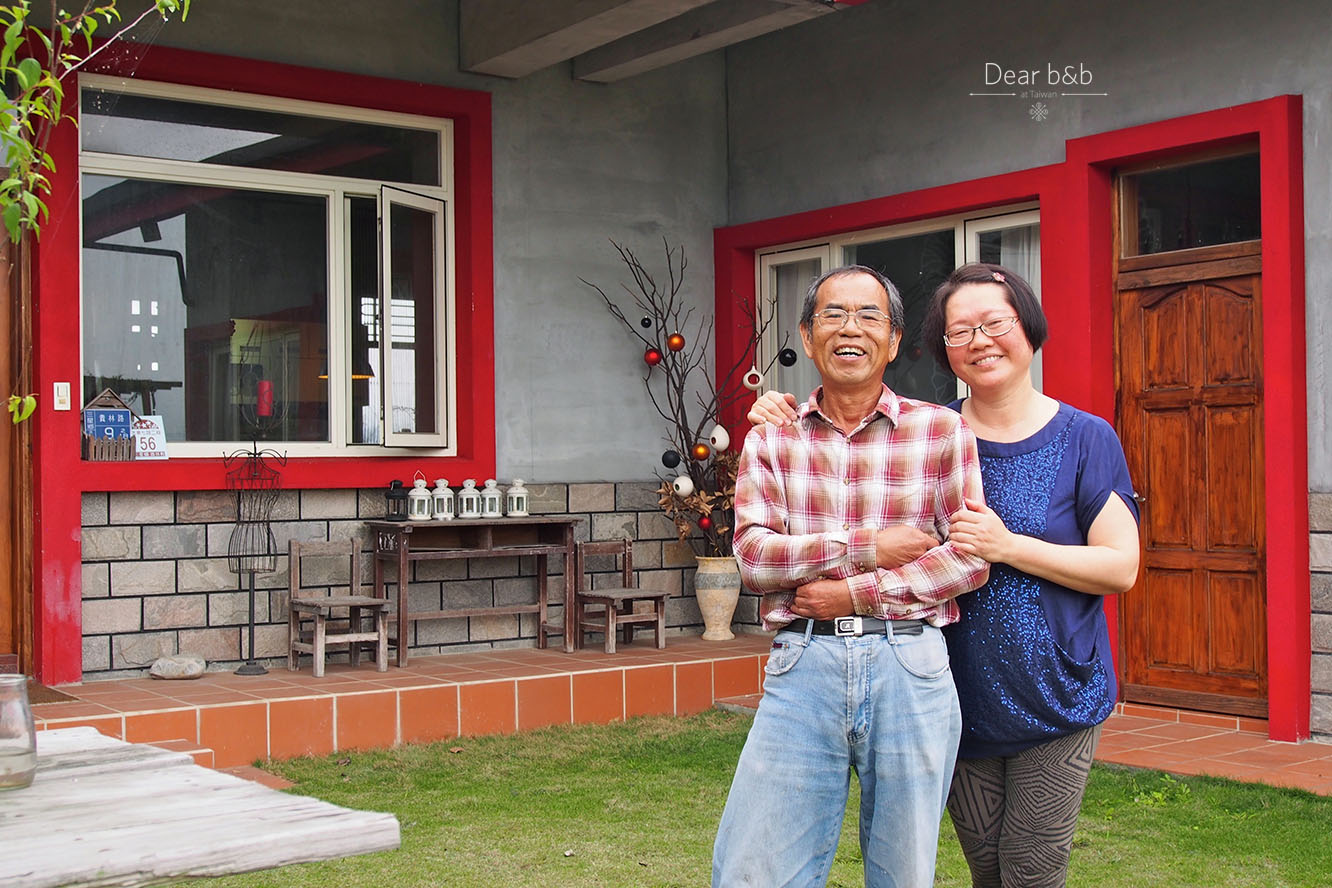 "My brother has to crack the door, so I dare to push the door open."
Wearing black-rimmed glasses, James was just like a big brother next door. He and Julie learned how to paint from their aunt since childhood, and thus developed a keen interest in painting. He laughingly said that he used to be rebellious and long for the freedom of leaving home, so he went to Taipei to study at Fu-Hsin Trade and Arts School. However, the strict training program pushed him into choosing communications over arts when entering college. After completing his military service, he returned to Yilan and worked at the National Center for Traditional Arts. On the other hand, Julie, who used to be an art teacher, had a nearly four-year experience of traveling and working abroad. With slightly curly black hair and shining big eyes, Julie was as passionate as her mother Su Hui. But as sweet smile blossomed on her face, her trendy outfit couldn't hide her girly vivacity. Talking about the design plan of Farmland B&B, she laughed and said that James played the role of an "art director" who "only talked but with no action," while she was the one who realized all the ideas.
In the beginning, Julie had been mulling over the design of the overall visual theme, as James rejected her proposals for several times while constantly encouraged her for better ideas, she finally found inspiration in Qing He's farmland and painted the beautiful field scenes full of reminiscence on the interior walls. The sibling bond between them was revealed through their countless communications and final work. "Usually, my brother has to crack the door, so I dare to push the door open," said Julie, as her round eyes told of her admiration and respect for her brother. James, who also appreciated Julie's talents, made the lodging and its Facebook page the stage for her to demonstrate her creative works. The brother and sister, like best friends who really understand each other, would continue to support and cherish each other.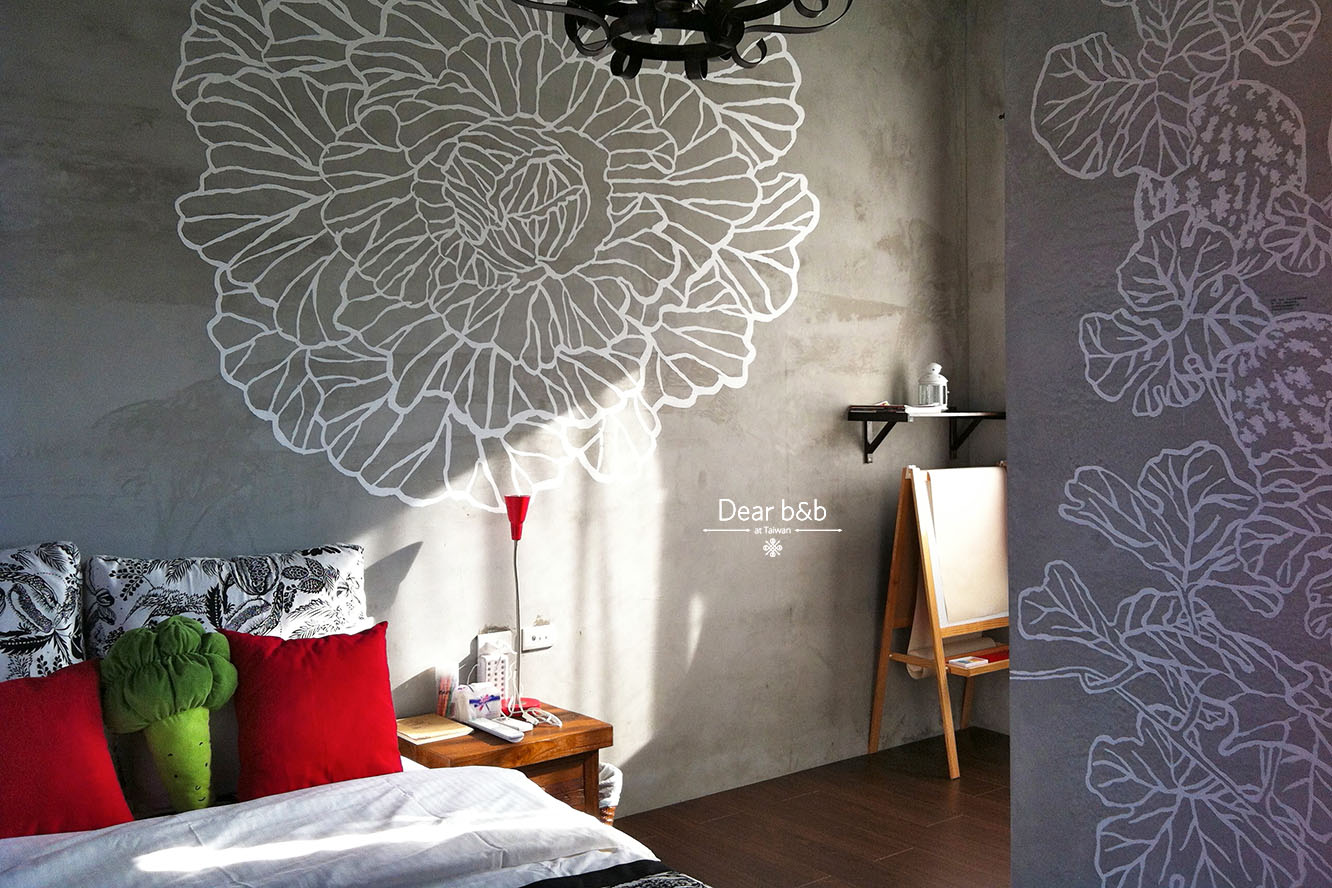 Bringing back love to support the family after exploring the world
After Qing He passed away, Kuma the dog became a new member of this family. Then in 2016, as Julie received working holiday opportunities to New Zealand and the UK, she turned the B&B over to Su Hui and James, who left his full-time job. That was her first backpack trip and solo adventure to explore the world, where she learned to know new people and say goodbyes, saw snow for the first time in New Zealand, and worked at the store of the tea brand Fortnum & Mason. While she developed a deep interest in the culture of tea, she also found her passion for sharing this culture and thus brought it back to Farmland B&B. James said jokingly, "My parents are quiet and low-key Virgo and Capricorn, but my sister and I are outgoing Aries and Pisces, I wonder why." Today, the family works together every day and argues about the same issues over and over again, but one minute they quarreled, the next they would laugh together.
Home is where children are raised and prepared to explore the world; and home, giving you courage and strength, always awaits you to return. Farmland B&B, even though with its décor constantly changing, what remains unchanged is the family with a deep love for each other. With the family love expressed through the bright red walls, the lush green farmland, and heartwarming cuisine, they complete each other's worlds and become each other's safe harbors.
Su Hui once said, "Business is supposed to be run by a family!" Farmland B&B brings the family even closer and allows them to rediscover the meaning of home. Home is where the hearts of the family of four are; even as Qing He had gone to heaven, Farmland B&B, the home that nurtured with family love, would always be here.