A boy who belongs to the mountains and fields - Mr. Lai
As we walk together, we are astounded by Mr. Lai's penetrating insight into these mountain jungles. From these tiny flowers and plants along the path to trees towering in the distance, from that soaring goshawk to mountain goats in far-off fields, Mr. Lai can give a detailed explanation of everything, as if from a directory which he holds within his mind. Through the magnifying glass of his eyes and words, we gain an intimate understanding of every minute detail of Juhu Villa.
"I've been here since birth." We open our eyes in awe at the idea that someone could spend nearly their entire life on a distant mountain such as this. Mr. Lai has grown up in this place, a third-generation farmer in this time when farmers are hard pressed to turn a profit and flocking to the cities. Even so, Mr. Lai, the family's sixth son, chose to walk a different path. With is pious nature, he chose to remain here when his father's health was failing. He experienced firsthand the convenience of the big city while completing his studies in Taipei where he also worked part time help his family financially. While there he also completed his military service, yet when, after four years in the city, it was time to return to the mountains, he didn't hesitate for a moment. He is able to climb up with his bare hands the wire obstacle course he has set up, and quickly and easily ascend the trees above the river valley. In his excitement, he has constructed a high-mountain swing to fill guests with a sense of security and show them that there is nothing to fear. He is a mountain boy, and this is his home.
With is attitude of lifelong learning, he has filled his home with all sorts of guide books concerning birds, fish, plants, and rocks. With his nature-loving philosophy, Mr. Lai has personally visited every place in this mountain environment. Combining his interests with his guesthouse, he happily gives guided tours, allowing ever more travelers to stand upon his shoulders and gain a profound understanding of nature.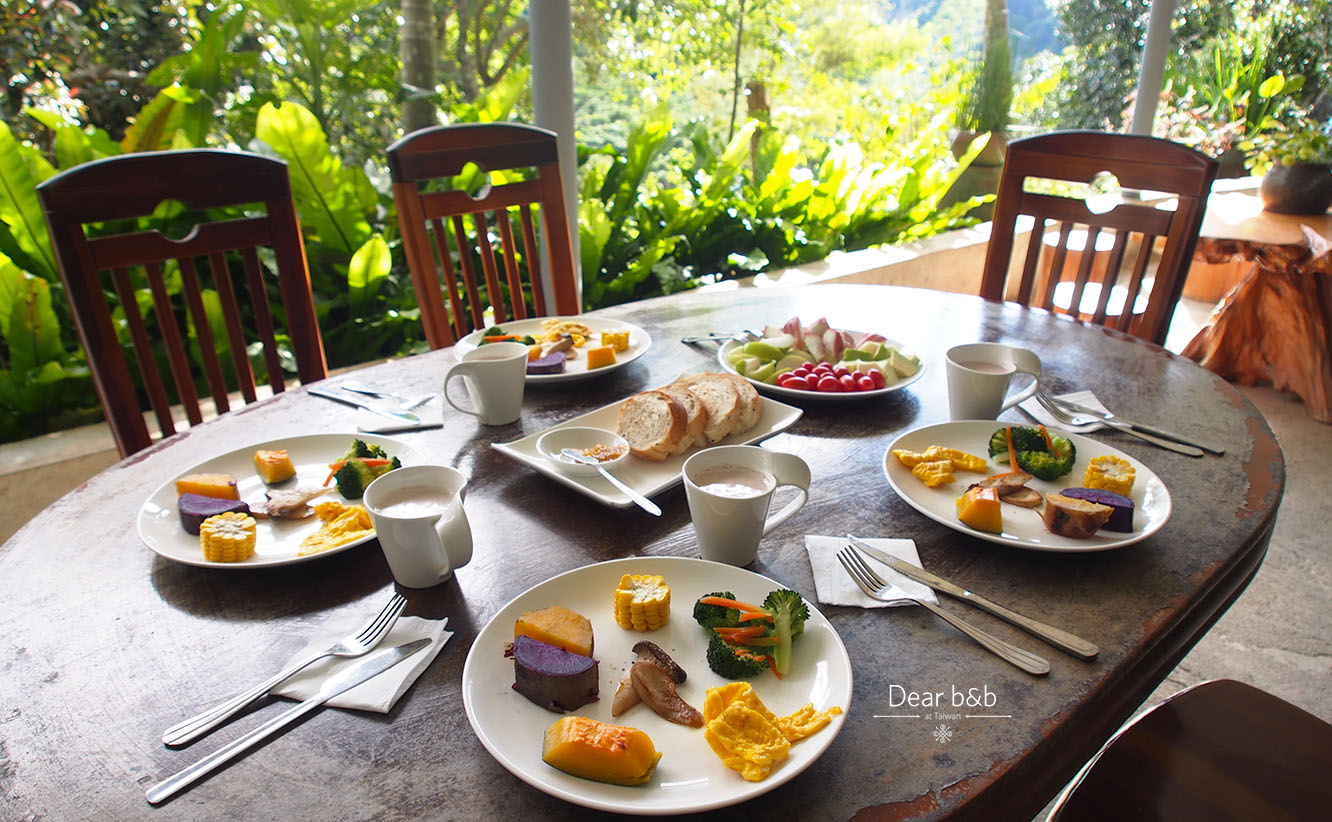 The girl who knew she would marry into the country - Mei-jyu
We met Mei-jyu the next morning at breakfast time, with her curly, ash-gray hair and simple clothing, her smiling eyes and genial smile. Like the balmy morning sunshine, she makes her guests feel close and dear.
Also a nature-lover, Mei-jyu grew up in Kaohsiung City, yet she didn't like having neighbors and yearned for a quiet, peaceful life. From her days working as a nurse at the Mennonite Christian Hospital in Hualien City, she developed a fondness of accompanying her aboriginal friends into the mountains, earning her the nickname Mountain Boar. She lacked the delicacy most young girls had, and could always keep up with her friends even when carrying a heavy load. Perhaps it was this natural inclination which fated her to meet with Mr. Lai, a kind of serendipitous agreement which drew them together and bound them.
Before she had reached her thirtieth year, Mei-jyu had vowed that she "wanted to marry a man who had no neighbors." Around that time, Mei-jyu's friend was introduced to Mr. Lai and they went on a date, but the friend was scared off by her first trip to the mountains. The friend then remembered Mei-jyu's vow and introduced Mr. Lai to her. Mei-jyu jokes that she really did fall in love at first sight… with the mountains! Mr. Lai himself jokes that, "It was really the mountains that she wanted, and I'm just an accessory!" The sweet bickering of the playful old couple really made us all laugh as we listened to their story. Perhaps neither of them wants to admit it, but we could all tell that it was Mr. Lai's honest and tolerant nature that actually evoked Mei-jyu's love. The first time Mei-jyu visited their down-to-earth home, she was surprised by the number of books there were. She also really liked Mr. Lai's amiable old mother. Though Mr. Lai is somewhat antiquated, he has created a simple life that Mei-jyu can't help but appreciate. Naturally, that glimmer of goodness in their eyes led them to marriage.
We asked, "So now that the beautiful dream has come true, and you live in a home without neighbors, are you still extremely fond of this kind of life?" Mei-jyu nodded her head resolutely and said, "Even though 20 years have passed, I still really like this place. It has become a part of my life. This place is my home."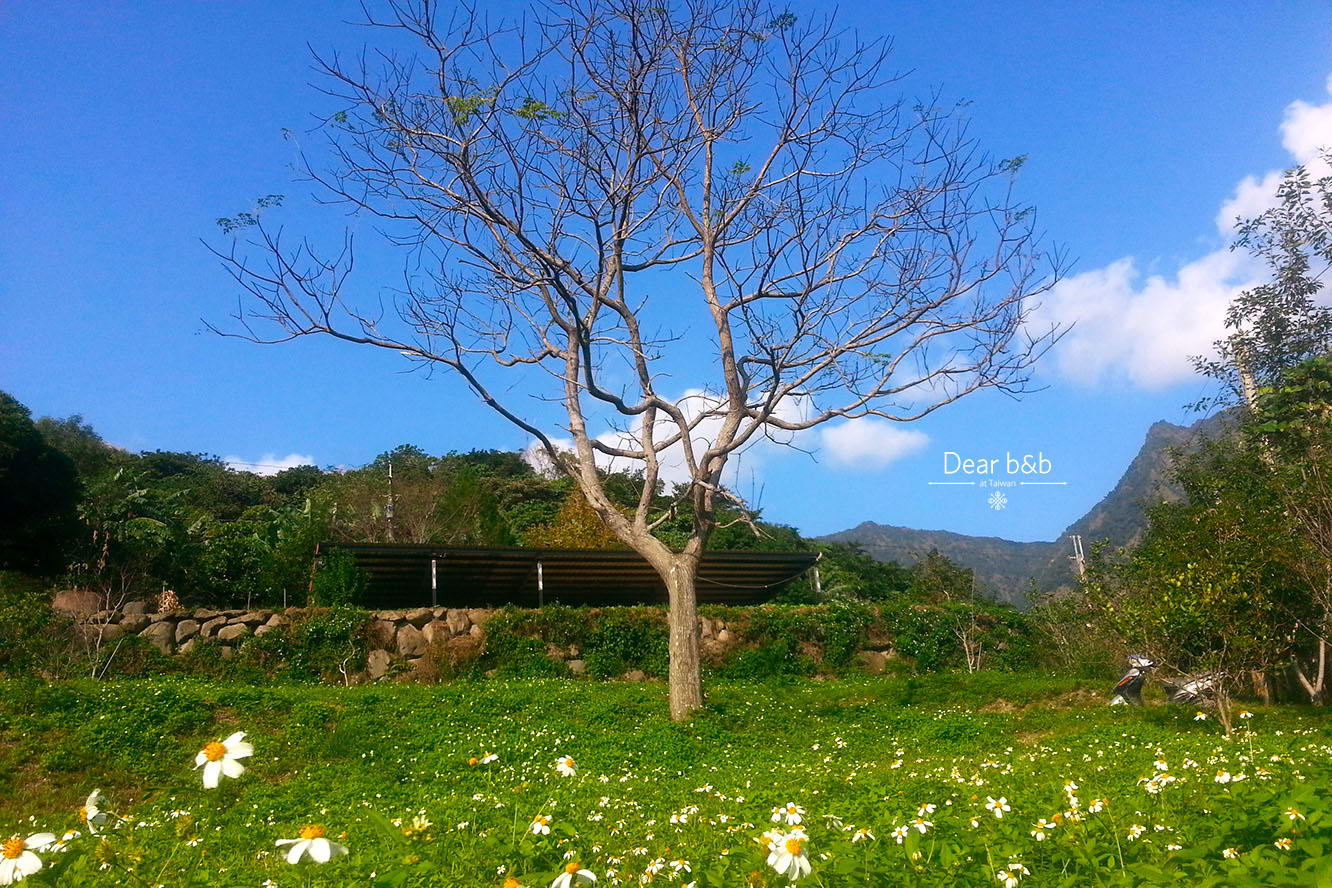 "In the name of romance, the whole forest can be abandoned"
On that mountain where phone reception doesn't exist, in an era before messaging software even existed, they are strolling along the sloping mountain road while the birds sing the overture of their love affair. The endless mountain range is the backdrop for their memories. The love that gradually accumulated in that pure and simple era has crystalized into an even longer-lasting, thought-provoking aroma.
Their predestined encounter is the archetype of a classical Taiwanese love story, using profound letters to express their implicit affection, with a sense of trust and security that accumulated silently over time to create a home. They have operated at their own preferred pace to build a family with two children and a little black dog, and their bashful interaction remains as sweet as ever.
In front of the orange basket, we recorded this warm and beautiful portrait of rural family life. It was our good fortune to bear witness to their happy life in the mountain forests, and to listen to a love story from a simpler, bygone era. Our heartfelt gratitude goes out to Mr. Lai for his selfless sharing which filled our journey with delight. The considerate love of Mei-jyu allowed us to see a woman's tender resilience. Their story reminds us of the kind of tea served in a farming village, plain and simple yet with a sweet aftertaste.