An exquisite garden abloom with vibrant life
Red Garden Resort is hidden down a little alley in Sail Rock. Open the gate and you are greeted by a little garden facing out over the sea which, as the name implies, is full of colorful red flowers. Though small in size, the terrace is delicate and orderly, arranged into multiple impressive layers so that the style of the garden changes depending on where you stand. Small stone carvings imported from Bali hide between blossoming shrubs; here a tranquil Buddha, there a calm little crocodile. It's as if they are keeping company with the flowers or playing with the travelers. No matter day or night, this enchanting venue allows you to linger a long, long time.
In keeping with the design of the gardens, the dwelling of Red Garden Resort is equally bright and romantic. Walls are accentuated with passionate orange and bright yellow paint, and are covered with winding, dark green vines. Looking up at the windows of the top floor left slightly ajar, you might imagine this to be the Taiwanese abode of Rapunzel, unravelling her long, silk-like hair out those windows day and night, awaiting the arrival of her prince charming.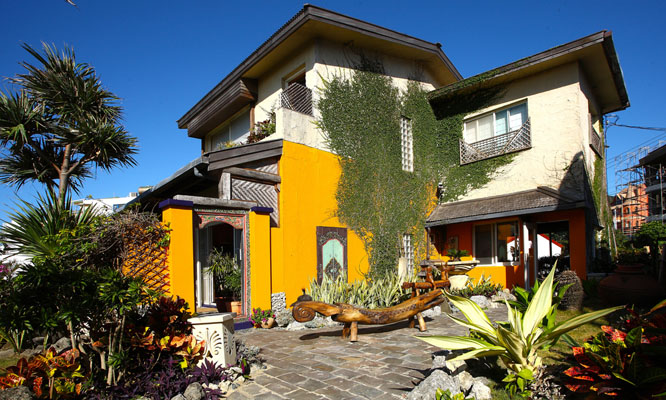 An exquisite and enchanting Southeast Asian fairy tale
An ingenious mix of exotic decorations from Bali and various other indigenous cultures greets you as you step indoors, giving Red Garden Resort a uniquely tropical, southern style, at once subdued yet bold. The bathrooms exhibit clay bottles of shampoo and shower gel, and volcanic rock flooring, the varied heights of the design elements echoing the multi-level composition of the gardens outside. Lying on the white bedding of the large wooden bed late at night, you hear the faint lapping of waves against the seashore. The subtle yellow lighting, the fresh cut flowers and the scent of sandalwood in the air are so charming that you feel loathe to let sleep overtake you.
Your hostess Amy, in her long, flowing skirt, is the beautiful caretaker of this elegant garden. Passionate and strong, Amy was born and raised in Kenting. Giving up her dream of being a professional soccer player, her athletic vigor and perseverance allowed her to go from serving in a hotel restaurant to become an apprentice at another establishment opened by the hotel chef where she learned to cook and to speak English. She later took charge of her own restaurant, at which time she met her true love, an Englishman named Neil. Red Garden Resort is the fruit of their labor, bearing witness to their good fortune and happiness.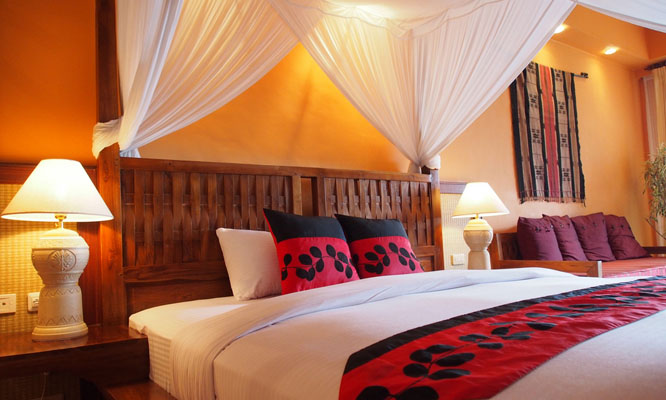 Blooming in the hearts of travelers
Originally employed in the field of shipbuilding design, Neil found himself making frequent trips to Taiwan. An avid surfer, he would escape to the beaches of Kenting nearly every week. It was on one of those trips that he met Amy, who was working in a restaurant he patronized. Their exotic foreign romance culminated in Neil giving up his career to stay in Taiwan and start a family with Amy. At that time, Amy was growing increasingly weary of her hectic restaurant job, and began to imagine the contentment of a leisurely lifestyle in a garden paradise. In order to fulfill his wife's dreams, Neil once again took up his design profession. He drew up all the designs and oversaw the construction work himself. The details of Red Garden Resort took shape in each meticulously drawn blueprint, as if with each stroke of his pen, Neil was bringing his commitment to Amy to life, each gorgeous flower nurtured with his love for her. So long as they hold hands, the flowers in their garden will bloom eternally in brilliant red.
When you stay at Red Garden Resort, you feel like you've arrived at your own private villa. The atmosphere gives travelers the warm sensation of returning home for the holidays. As you enjoy a delicious breakfast under the garden trellis, the sea breeze caresses your skin and the sound of ocean waves rolls in the distance. Sometimes, you might find yourself lounging in a garden chair with a good book, at others strolling the beach in the sunshine. Passing your days in such cordial comfort, you feel utterly free. For over ten years, it is precisely this secret that Red Garden Resort has been planting in the hearts of travelers.