Wartime revival in an official's residence
Guningtou Traditional Guesthouse is one of only a few three-unit courtyard mansions in Kinmen. Swallow's tail accents soar skyward from the rooftop and brightly colored cochin tiles vividly depict birds and flowers under the eaves. A dark green military water jar of hot tea awaits you in the vestibule where multiple cabinets house wartime relics. An old-school rotary phone on the table recalls the nostalgia of soldiers away from home. While preserving the original character of a Fujian-style residence, owner Jiarong has infused the space with her own interpretation of Kinmen. The vestibule borrows much of its inspiration from her grandmother's house, once occupied by a company of KMT soldiers. All of these Kinmen antiques and classic ornaments combine into an enchanting atmosphere, leading travellers down memory lane.
The smell of Chinese cedar permeates the courtyard air. As you pass through engraved shutter doors, the pleasant voice of a legendary Taiwanese singer, Teresa Teng, fills the air with songs of both the joys and sorrows of old times. Every inch of the courtyard is full of Jiarong's creativity and attention to detail where antiques take on new lives, teeming with the beauty of passing time.
Experience the Local Feeling of Kinmen
The seven rooms of Kinmen Guningtou Traditional Guesthouse are located off the vestibule, the main hall, and in the rear building. Transformation of the traditional design allows warm sunlight to enter, creating a cozy space. In keeping with the military theme of the vestibule, bullet-shaped ornaments and military towels may draw you back to the hardships of wartime. Jiarong even reimagined hairpins into the role of door bolts. As you bolt and lock the door, the tunnel between the ancient and the modern is activated at once. Or perhaps you rent the room in the left attached building. You'll find yourself in even more spacious private quarters. The laneway outside was once filled with the sounds of laughing of children, much like the joyous laugher of you and your companions.
Guningtou Traditional Guesthouse doesn't merely provide comfortable rooms; also prepares for visitors the most savory local dishes such as bowls of noodles bursting with the most luscious, fresh ingredients and stir-fried seasonal vegetables. These recipes all come from Jiarong's mother, including that original recipe for pumpkin cake and those tangerines stuffed with sun-dried white radish and braised lean ground meat. Each cuisine, a product of time and delicate craftsmanship, is sure to delight the travelers' adventurous appetite.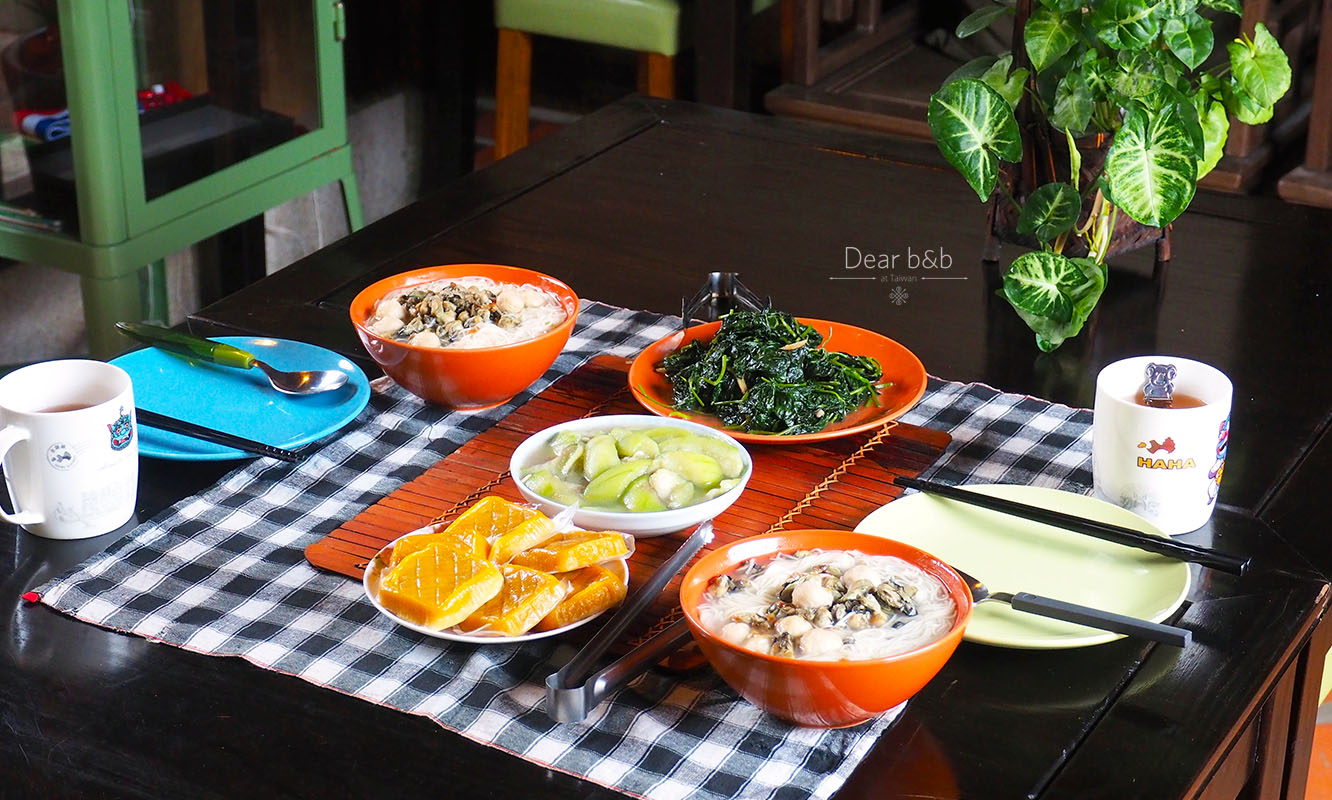 Proudly infusing her hometown with passion.
"It is my hope to evoke more young people's willingness to return home." Jiarong, who grew up on the island, suggests with a smile that she has Kinmen in her bones. She quit her stable job in Taiwan so as to fulfill a yearning to return to her hometown, where she works passionately for the benefit of this special island. She submitted her bid on an extremely costly traditional residence to the government, endured the unpleasant gossip and doubts of others, and overcame both sudden and unexpected difficulties to realize her ideal. It was her own efforts that made it all possible, breathing new life into this old edifice and infusing it with historic Kinmen. Visitors to Jiarong's guesthouse find pleasant surprises in every corner which reveal the tremendous determination and strength present in her diminutive stature.
Furthermore, Jiarong is making her first attempt to use her guesthouse to create connections within the community by cooperating with nearby businesses and offering travelers the chance to experience local Kinmen culture by painting their own ceramic model of the protective spirit known as the Wind Lion God. Though she comes across as casual and even boisterous, all of these earnest efforts reveal Jiarong's profound love of her homeland. As you walk through the doors of Guningtou Traditional Guesthouse, you'll engage with both the past and present of a magnificent government residence, and experience the warm, authentic grace of Kinmen.