Sipping beer with your nose in a book
As you enter Wusulin Before, sunlight streams through large windows and spills across the square pattern of the terrazzo floors. The uneven wooden bookshelves along both walls give the sensation of being in a forest where the trees have grown to varying heights. In this staggered forest, the treasures hiding between the trees are not birds' nests, but rather the book collection of B&B host Danny, as well as his collection of craft beer! According to Danny, books are like friends who enrich our innermost selves, while beer is a good companion for pleasant worldly conversation. These two items appear to be unrelated, yet they are Danny's indispensable life companions. So the first floor of Danny's B&B is an independent bookstore that sells beer. This design is not for profit, but rather to satisfy Danny's heartfelt desire for sharing his passions with others.
"My B&B is a part of my life. It is an extension of me, so you have to appreciate my lifestyle to stay in my B&B." Danny comes across as somewhat arrogant and proud, but after all, confidence comes from working hard at what you do. The moment his family decided to refurbish their aged courtyard home, the opportunity to create Wusulin Before Guesthouse was born. Black Forest is the name of the area were Wusulin Before is situated, while Before is actually a play on "b-four", as in bed, breakfast, books, and beer - all delightful things which Danny just can't wait to share with travelling guests. You may buy a book with which it was love at first sight, or perhaps a bottle of mouthwatering beer to pass a relaxing afternoon.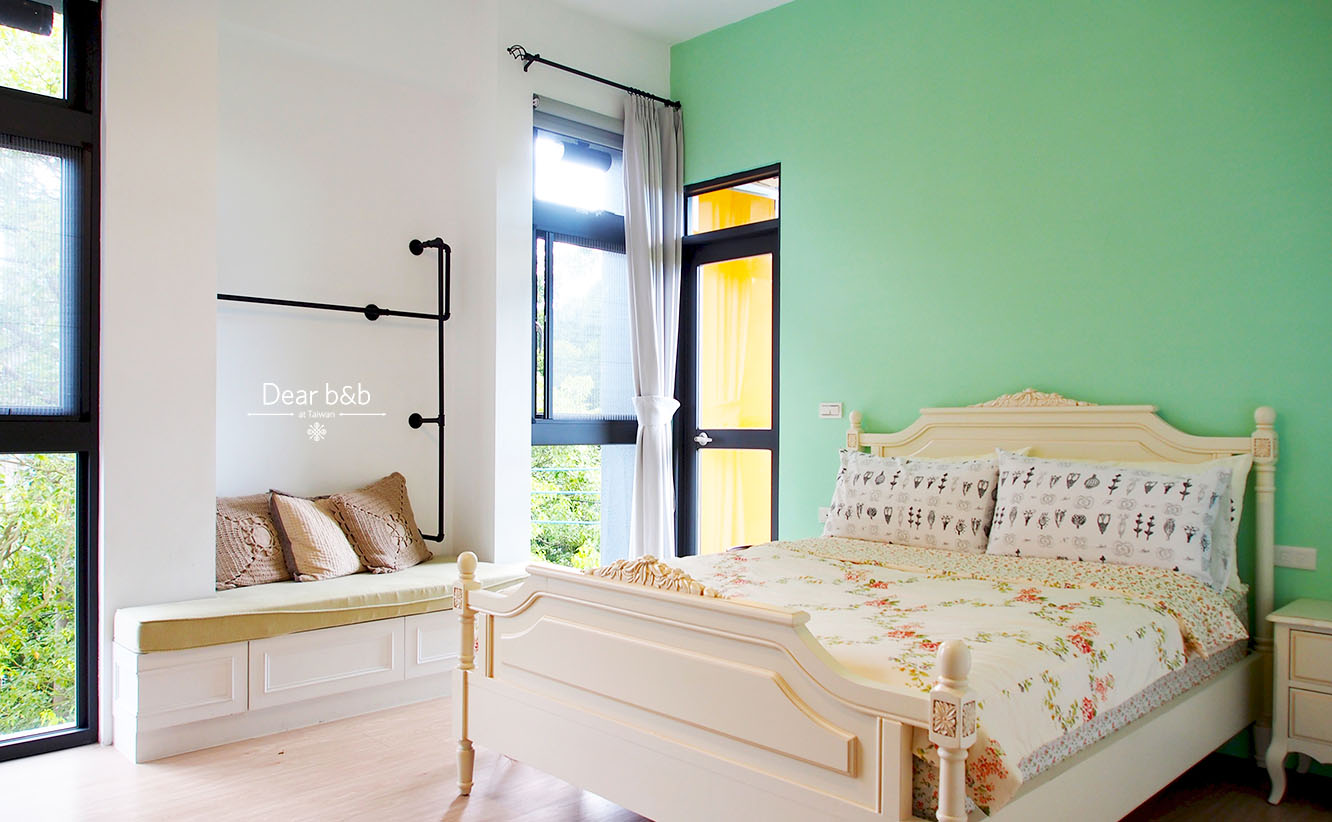 Volume after volume recounting the collage of life
Heading upstairs past walls lined with books, you discover that Wusulin Before is itself a colorful hardcover storybook, each page containing different scenery, as the names of the five guest rooms imply. Occasionally flipping this storybook open to the "life style" page, the central mountain range, however distant, appears right before your eyes. Occasionally opening it up to the "fiction & literature" section or the pages describing "indigenous literature" and light streams in through skylights, illuminating the split-level loft design of the B&B. Meanwhile, you share your discoveries with friends in the nooks beneath the stairs.
The page of this B&B storybook about "travel & food" is the tender green color of a grassy field, the warmth of the sun and the specs of pink flowers accompany you in welcoming springtime. Meanwhile in the gosling- yellow story regarding "kids' picture books" you and your friends have ample room to roll freely around like children on the two large double beds. Yet no matter which meticulously collaged page you open the Wusulin Before storybook to, it is sure to bring your imagined scenery to life.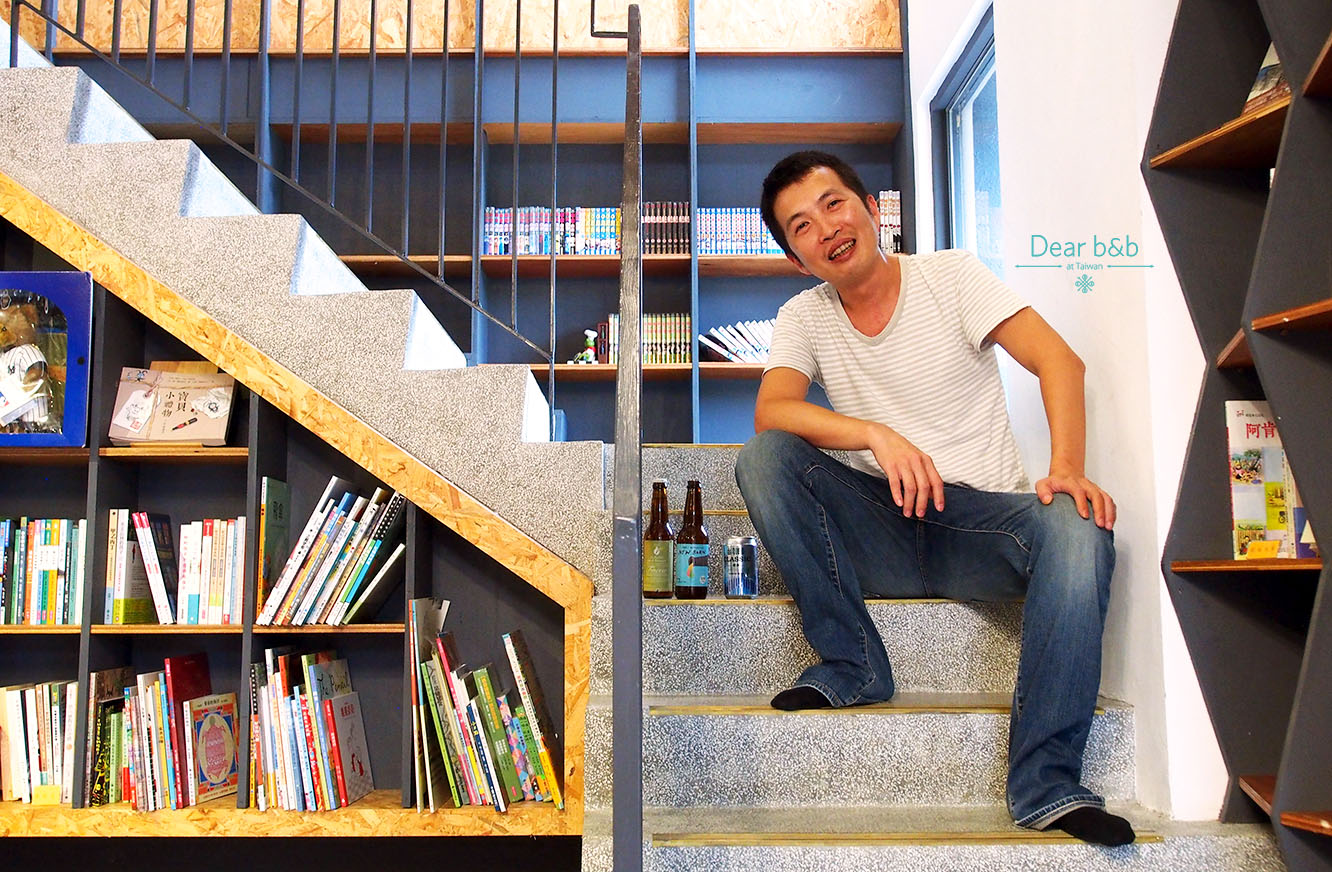 Discover story after brilliant story
Standing there in a simple t-shirt with a bottle of beer in hand, Danny looks just like the character Ling Hu-chong out of Jin Yong's famous 1967 martial arts novel "Swordsman" who regarded the liquor in his cup as a lifelong friend. Most surprising, though, is that the practice to which he has devoted more than twenty years of his life is not what is in his cup, but rather what lies between the pages of his books! With a laugh, Danny proclaims, "Not a day goes by that I don't read a book, nor a day when I don't drink alcohol." Danny exudes an open and generous humor, and is quite insistent on realizing the ideals he feels passionate about. Though it isn't easy to operate a bookstore, he still hopes to use the magic of his shop to help people fall in love with reading. Even when work keeps him busy, whenever he meets a like-minded traveler, he's more than willing to discuss books over bottles of beer all night long. Danny appreciates life and is apt to follow his whims, just like that free and easy character Ling Hu-chong, laughing his way through life.
When you arrive at Wusulin Before Guesthouse, please remember to leave your hurried urban pace at the door, take the time to truly enjoy a good book, a bottle of beer, or an amusing phrase from your amiable host, Danny. Shouldn't everyone's life contain just this kind of carefree comfort? On this trip, you need not travel far, just a little to the south and you can find yourself in the midst of lush nature, fine literature, and craft beer. Put yourself in a holiday frame of mind, and enjoy the intoxicating delight of books and beer!