Dreamlike hosts straight out of Japanese manga
You enter the pink building of the Bear Meets Moose Guesthouse. Spacious, warm and bright, the style is rustic Japanese and there is a smell of cinnamon in the air. Light-colored wooden bookshelves hold all kinds of cute miscellaneous goods. Of course, the leading characters of this guesthouse - bear and moose - are hiding in every corner! No matter if it's armwrestling moose and black bear, or white bears with moose antlers designed by the guesthouse owner, each wears a welcoming smile just for you!
The most unexpected thing is that this cute, dreamlike, fairytale guesthouse is actually the creation of two grown boys, Jerry and Ethan. Jerry's nickname is Tu-Tu-Ge (or Rabbit Brother), a reference to Tukisiro Yukito from the Japanese manga Cardcaptor Sakura. Both Jerry and Ethan appear as if they have just emerged from the kind of manga adored by young girls, with their fair, clear skin, eyes like crescent moons, and mouths always turned up at the corners in a smile.
Afternoon tea prepared by the hosts is ready and waiting for you, but the best thing is that you get to choose your preferred mug from their rich and varied collections. Tea and handmade cookies are available around the clock here. You can even sign up for Jerry and Ethan's own DIY dessert workshop, donning a cute apron in this cute house to make cute aromatic cookies together!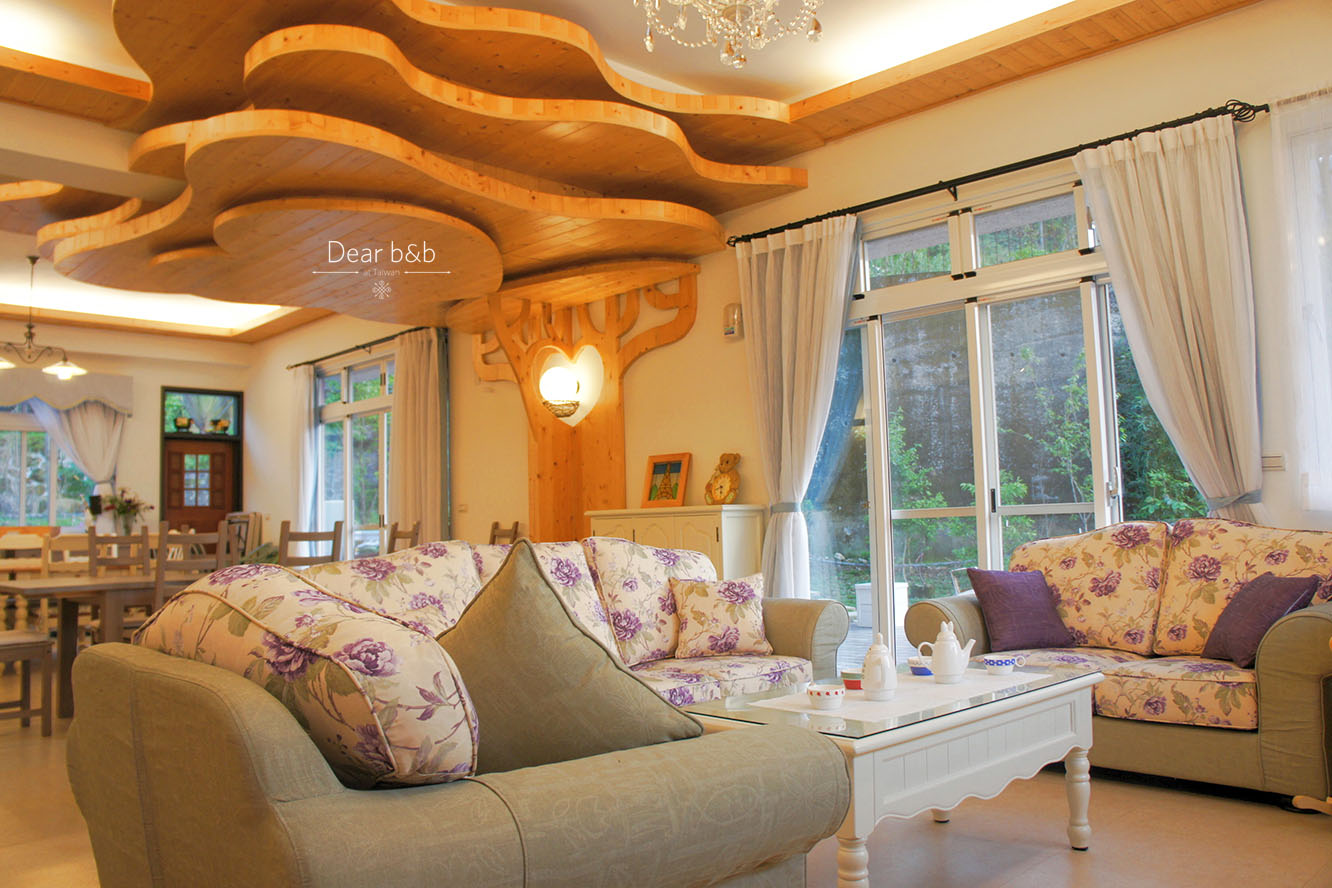 A mansion fit for young ladies
Bear Meets Moose Guesthouse is absolutely a mansion fit for young ladies; not a gold-and-jade kind of luxuriousness, but rather the kind of sweet and gorgeous environment that young girls dream of. A lavender-colored calico sofa furnishes the first floor common space, and a life-sized stuffed bear sits there awaiting your embrace. Even the wooden tree adorning the wall and ceiling spreads out overhead in layered shapes resembling a cloud, a butterfly and a heart!
Each room is painted in tender colors, the favorite being the Tiffany blue room on the third floor where the ceiling is cut into diamond-shaped lines and adorned with a crystal light fixture. There is also the Rilakkuma room on the first floor where the doors are decorated with a big bear's head and paws asking you to "give me five" before you enter. Furthermore, room and bathroom are furnished with a heater and a bed of the same quality as the Hilton hotel chain. Each and every guest is guaranteed a sweet night's sleep.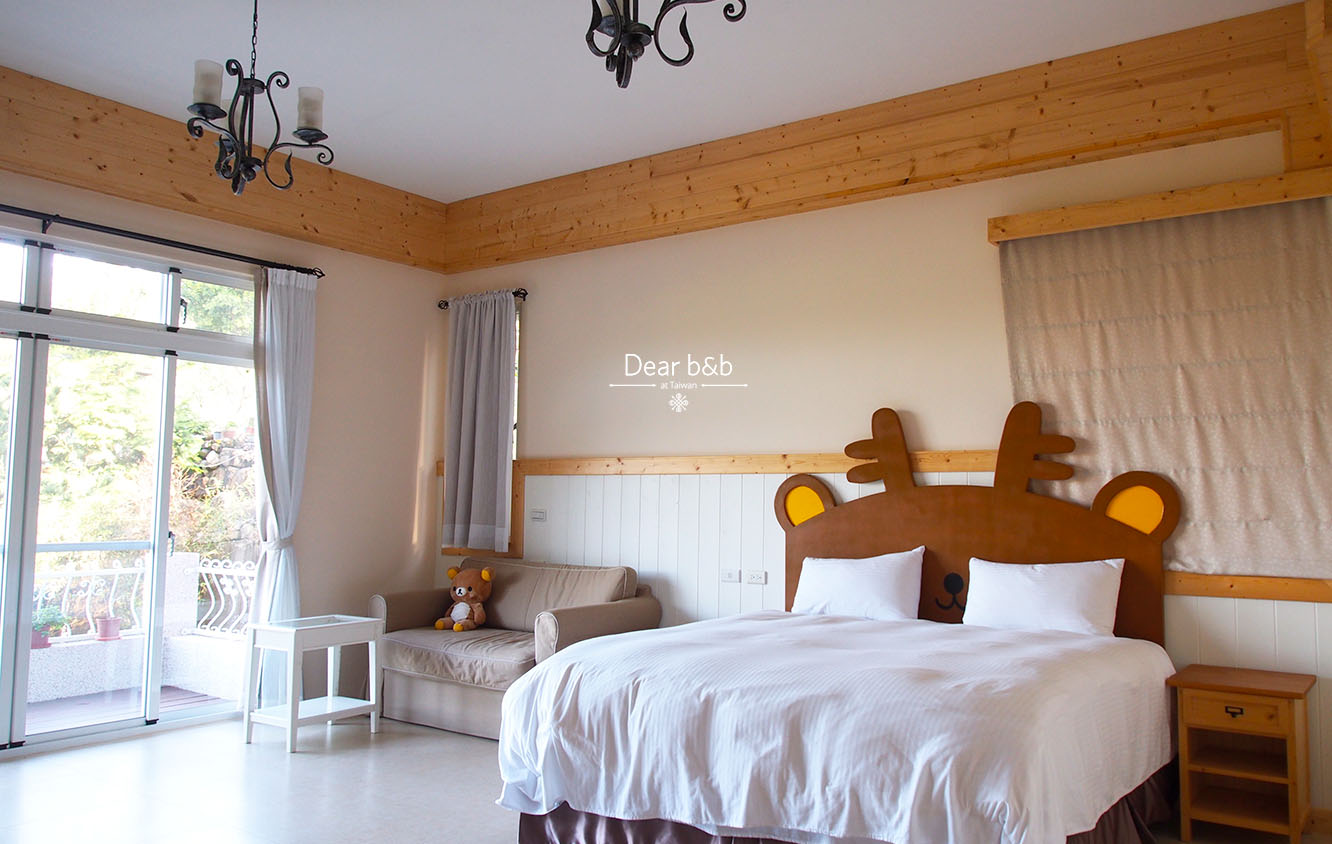 Joy fills the space inside and out
You wake up in the morning and push open the balcony doors. The sight of blue sky and green grass raises your spirits. Next, you go down stairs and find Jerry and Ethan working together to make the breakfast of your choice: a savory American-style meal, sweet banana and chocolate waffles, or toast and homemade jam. Breakfast is served with hot tea or coffee, giving the day a sumptuous and delightful start.
After breakfast, walk out into the vast outdoor park area and discover even more pleasant surprises. Apart from the ecological pond and the four-seasons pathway, there is even a pool shaped like a cupid's heart. Near the pool is a spacious barbecue area with the option to order barbecued suckling pig. Time flies in such a place, but each moment leaves a cheerful memory.