Relax and refresh at Uulo
No matter how many times you've visited Uulo B&B, you will always be greeted by Sanjianzi's wagging tail and your smiling host, Pomelo, who somehow always looks like a university student. The simple decor, like Pomelo's smile, will put you instantly at ease.
The open first floor is comprised of a living room and kitchen, and is divided only by a bookcase. An antique, olive-green sofa and a big wooden table with matching chairs provide ample space for chatting with fellow travelers. The sofa bed beneath a pastel yellow wall offers the ideal place to roll around with Sanjianzi. Smiling faces drawn on pomelos and handmade sock dolls surprise you from various nooks and corners. Perhaps the pomelos are relics of the Mid-Autumn Festival. Next time you come to visit, bring a friend and see who can discover just how many different pomelo faces there are!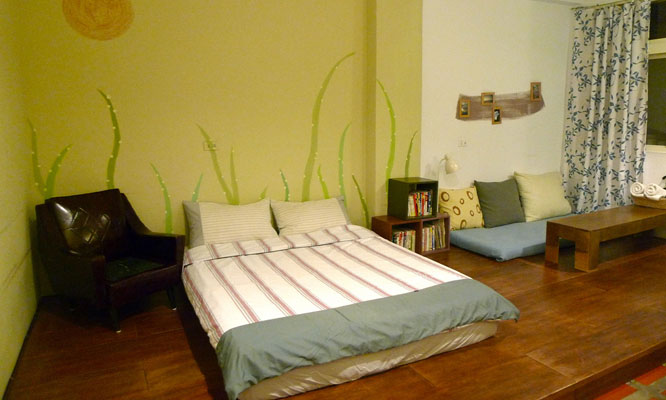 Open the door to any given room and behold a charming view
Three-storied Uulo B&B offers four guestrooms, each of them a charming sight to see; simple decor paired with Pomelo's hand-painted murals in light colors, and sofa beds heaped with pillows and smelling of sunlight. You can choose a book, put on a CD, and enjoy a full day lazing around Uulo B&B. Even the shower wall is adorned with an amusing pomelo mosaic.
Yet this is not all that Uulo B&B has to offer. Little Luo and Pomelo have painstakingly drawn up an exclusive map of local eateries and scenic spots just for you. It covers the entire area, from Hualien City down to the border of Taitung County. They have thought of everything, even providing female travelers with hygienic necessities, and offering solitary travelers the perfect-sized room to feel entirely at home in.
Breakfast is a highlight of the Uulo B&B experience. Freshly made every day, enjoy homemade whole wheat bread, an impressive fruit salad, and organic potatoes or yams, all served with a cup of Little Luo's rich soymilk. Served at the big wooden table on the first floor, these fresh delicacies await you as you wake up and head downstairs.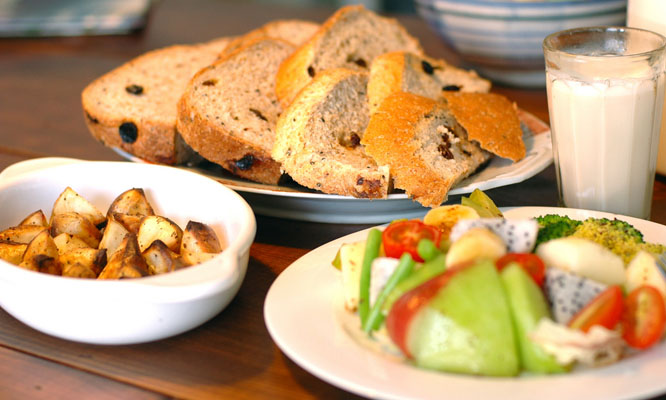 The happiness of total travel freedom
Hualian is a perpetual honeymoon for Little Luo and Pomelo. Back in the day, they didn't have much money, but that didn't stop them from feeling utterly blessed while sitting in the ocean breeze on Qixingtan Beach. At that moment, they both silently imagined the day when they would move to Hualien. They couldn't have imagined that, half a year after tying the knot, on an impulse and unbeknownst to their families, they really would pack their bags and drive through the night to Hualien.
With a laugh, Pomelo states that perhaps she was just born with a bigger heart than most. The thought occurs to her: if we don't seize the opportunity to take action, some dreams might just never come true. So it was that she started off on this adventure, changing the course of her life without any planning or preparation, and with nothing more than a sudden impulse. Since they hadn't really thought things through, even the workmen had to ask Pomelo, "How should we fix this place here?" Pomelo would respond, "Hold on, just let me think for a minute." Since they didn't have a clear plan for the style of their guesthouse, Uulo B&B now feels like a personal residence of the highest quality.
A feeling of warmth and stress-free ease is the most fascinating part of Uulo B&B's charm. When you get ready to leave, Sanjianzi, who has been following you around like your shadow, will be there to wag his tail and send you off. As you wave to Pomelo, you may feel inclined to say, "Ok, we'll see you again the next time when we are in Hualien!"