Boarding gate in a low carbon building
You enter the garden area and see a flock of Japanese chickens waddling around, children playing joyfully in the sandbox, and a person in a rocking chair gazing at the distant mountains. No matter rain or shine, the view is always inspiring.
Once behind the glass doors, a cute border collie named Rice Roll says hello from beside the wooden counter while French windows transport the verdant scenery inside. The interior space has high ceilings and ingeniously incorporates elements of airport design with the words "departure" and "arrival" written on the directions board. Even your room card is designed like a plane ticket, a pass permitting you travel to distant lands. On your way to your room, you walk past a shelf displaying vegetables from local farmers for sale, and a spacious restaurant surrounded by a betel palm forest.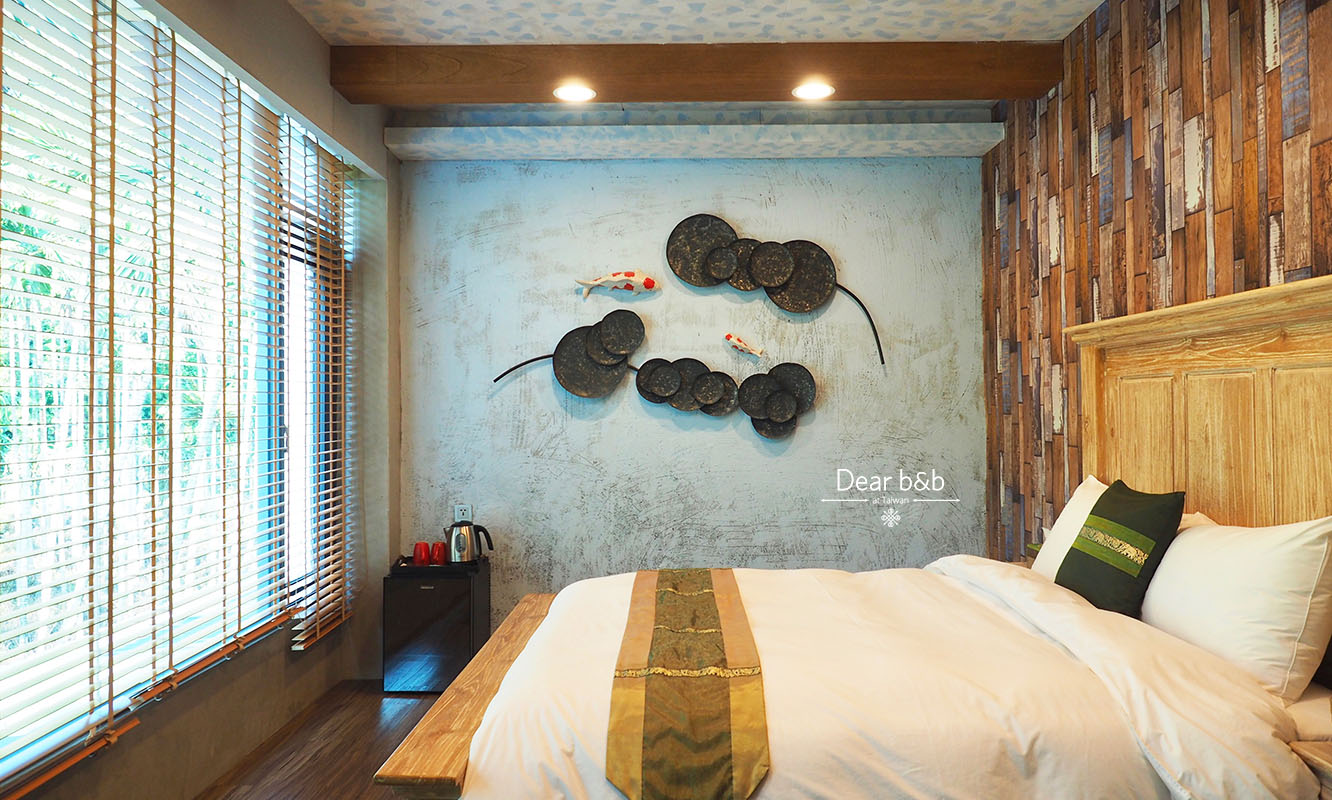 Six rooms, six exotic concepts
In this two-storey building, you'll find six different rooms, each with a unique theme designed and created by Steven, formerly a military professional, and his wife Lilian, who once worked as a flight attendant.
Boarding Gate A1 leads to the Chinese style room with exclusive courtyard where you can sip tea and enjoy the breeze. A2 leads to the Japanese style room where, in the spring, you can sit outside in the covered corridor and admire the sakura blossoms as you allow your legs to soak in the cool water flowing through the yard. You can rest on the tatami or enjoy the barrier free bathroom, giving travelers more accommodations options. Up on the second floor, the public space consists of a reading area framed in solid wood with books, DVDs and games lining the wooden shelves. Starting your journey at Boarding Gate B1, the comfortable European country-style room can accommodate four travelers and has two separate washrooms. The B2 and B3 rooms have a loft design and are furnished with four-pillar beds, offering a Southeast Asian feel. In the B5 room, you can open the window and look out over an entire forest of betel palm.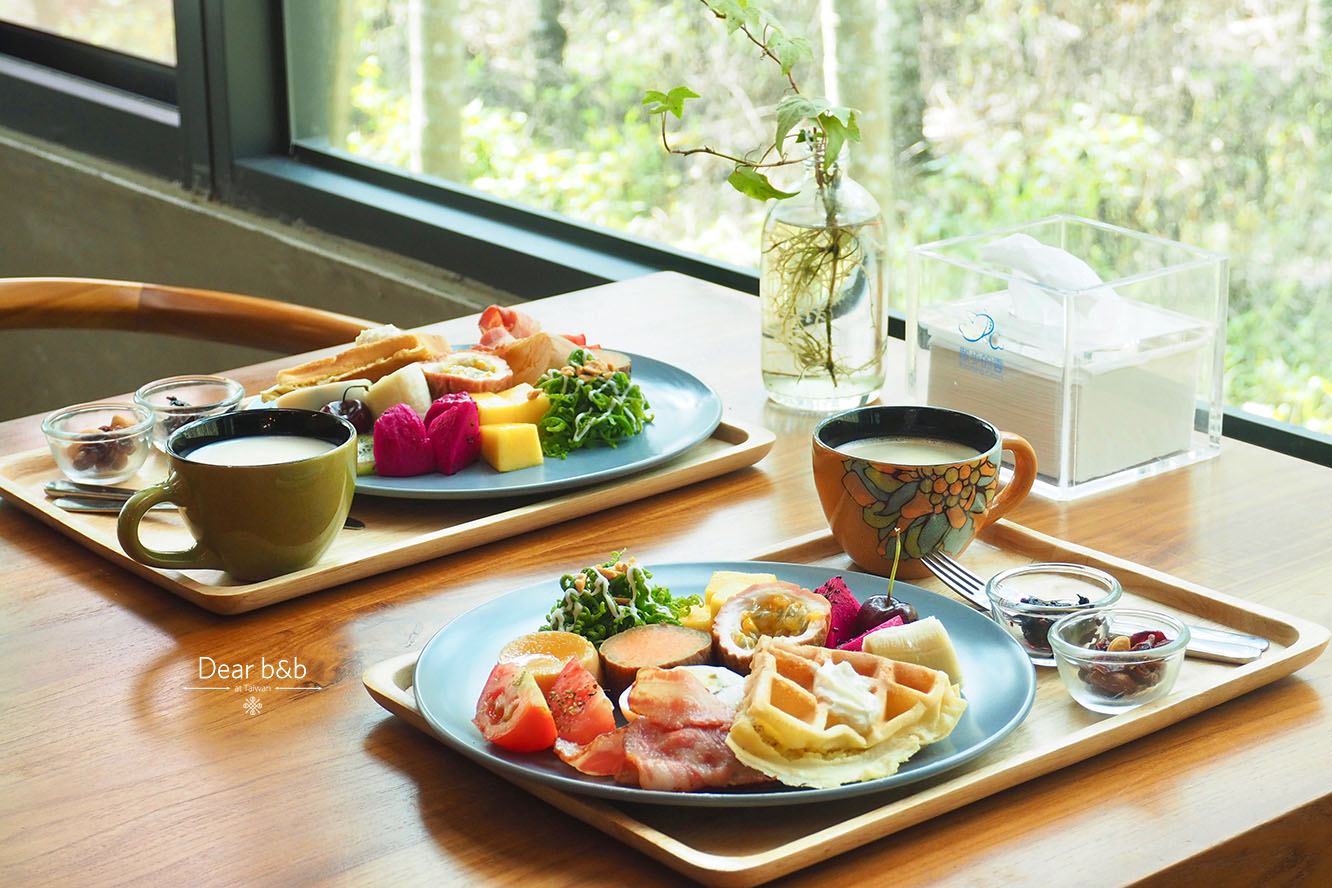 Enjoy a thorough guided tour of the local natural ecology
In the morning, Steven and Lilian prepare a healthy, sumptuous breakfast for you. All the ingredients come from local, small-scale farmers and are prepared and presented in the most natural way so that you can taste and enjoy their pure, original flavor. After you've eaten your fill, you depart with Steven for a guided ecological tour! This two-hour excursion gives travelers a profound introduction to the local ecology and culture of Toushe.
For the first stop on the tour, you change into rubber boots and set out to explore the peat soil basin in which Toushe is situated, a rare geological phenomenon. You begin from getting to know the flowers and plants along the roadside, jumping curiously around and getting your boots all muddy as you experience the texture of this peat soil basin. Next, you travel to a little farming village and strike a fun pose in front of a wall painting of a water buffalo. Further along, you find a fully intact 100-year-old rice milling machine in front of a temple, a scene which speaks of ancient wisdom. The final stop instantly diffuses all the heat of summer: it's Grandma's laundry, an antique site which has undergone renovation where cool, clear water rushes forth to clean away all the mud your clothing had just collected. As Steven relates interesting stories, you enjoy this refreshing period punctuating the end of your little journey.
It was sixteen years before that Steven and Lilian, with their passion for the land, first experienced a bed and breakfast. They felt emotionally touched, and thus the dream of opening a guesthouse of their own was born. Steven went on to study construction and design, worked many long years in remodeling various spaces, and taught himself about building construction and interior design, always holding close to his heart his dream of opening his own guesthouse. "At the peak of this busy time, I had five houses just waiting for me to remodel them." Steven saw the time and money spent in this way as his tuition fee, never once thinking of giving up. He even enrolled to study in the Department of Leisure and Tourism Management at Shu-Te University, and undertook studies in the landscape research institute of National Pingtung University of Science and Technology. "Even my professors said that I was the first student to actually bring my thesis work to actualization!" Steven happily exclaimed with a genuine, almost foolish laugh. Finally, they created their unique environmentally friendly guesthouse, based on the concepts of "ecology, lohas, and heartfelt perception" while working to include and connect with the local youth. They sought to revitalize their little farming village. Their wish: to transform travelers into roaming clouds, able to perceive a different kind of vacation.