Rich and delightful countryside courtyard home
Walking into the courtyard at Cat Sky House, everything is brightly colored, with cute, playfully arranged scenes all around. The courtyard preserves the traditional cement ground covering, as grass grows in cracks that opened up in the cement many years before. Several cats, stretching out beneath a red sun parasol, continue rolling around. Your host Lisa walks toward you with a smile. After retirement, she and her husband, Paul bought this house, originally in ruins, for the street cats that they had adopted. They have since remodeled it into a cute courtyard house full of cats. The moment you enter the house, you are greeted by a warm aroma - you discover that it's the smell of the home-baked welcome cookies being prepared by Miss Tian, the housekeeper. In the kitchen, the same warm color theme you have seen elsewhere at Cat Sky House continues, and the old wood-burning hearth remains as well. Watching Miss Tian's busy movements, you feel a sense of returning to your family home in the countryside.
And why have they chosen Yilan as the place to pursue life after retirement? Originally living in Taipei, Lisa says with a laugh, "We do it all for these little animals!" Following the growth and independence of her children, Lisa gradually started to adopt cats. First one, then another, then a third… the more cat adoption information she saw, the more she took in, and before she knew it she had seven or eight cats living in her home! A while later, after going on a trip with several friends, they suddenly became inspired to buy a house in Yilan where they could retire to one day, to live together and take care of one another. This was the birth of Cat Sky House. As Lisa says with a laugh, "You have to have your own life!" Retirement is not the finale, it is the start of a new life.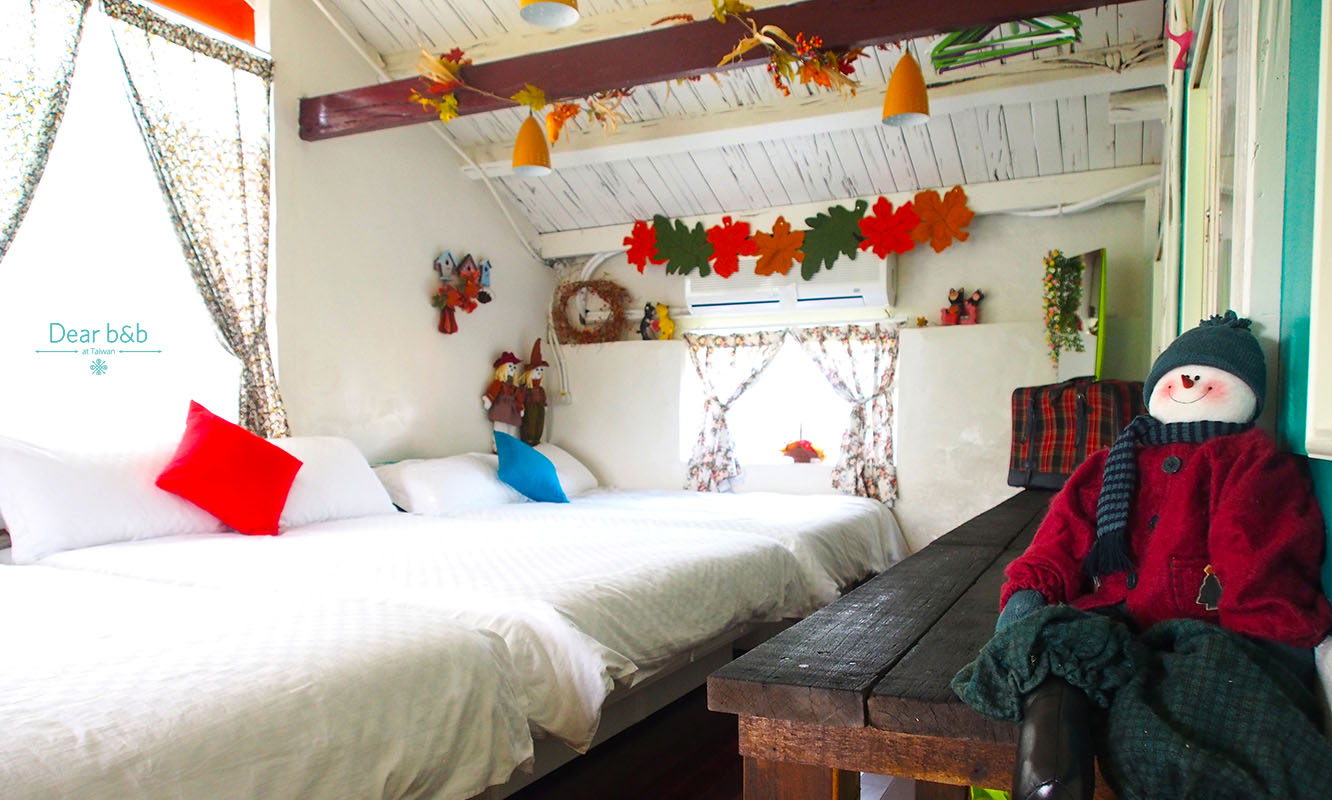 Peaceful, easy times in the country
Cat Sky House only entertains a single group of guests at any given time, so you can relax completely and enjoy the company of your friends in your own exclusive building. This country-style home filled with miscellaneous goods will set you completely at ease. Stepping into the bedroom, you take in the colorful decor on the roof beams, as well as the cute figurines lying on the bed and in front of the windows. The pristine white sheets are soft and welcoming, inviting you to fall asleep to the singing sounds of insects.
Walking outdoors, Paul excitedly shows you the sweet potato leaves he just picked in order to give traveling guests the most natural, flavorful breakfast possible the following morning. At this time, however, a sumptuous afternoon tea has been prepared to welcome you, and it is up to you whether you enjoy it outdoors or inside. Sitting in a corner of the courtyard, admiring the expansive country fields and the soothing breeze, you enjoy passionfruit jam on handmade cookies with hibiscus wax gourd tea. Chickens cluck as they walk around the courtyard in a scene that seems right out of a peaceful, pastoral painting.。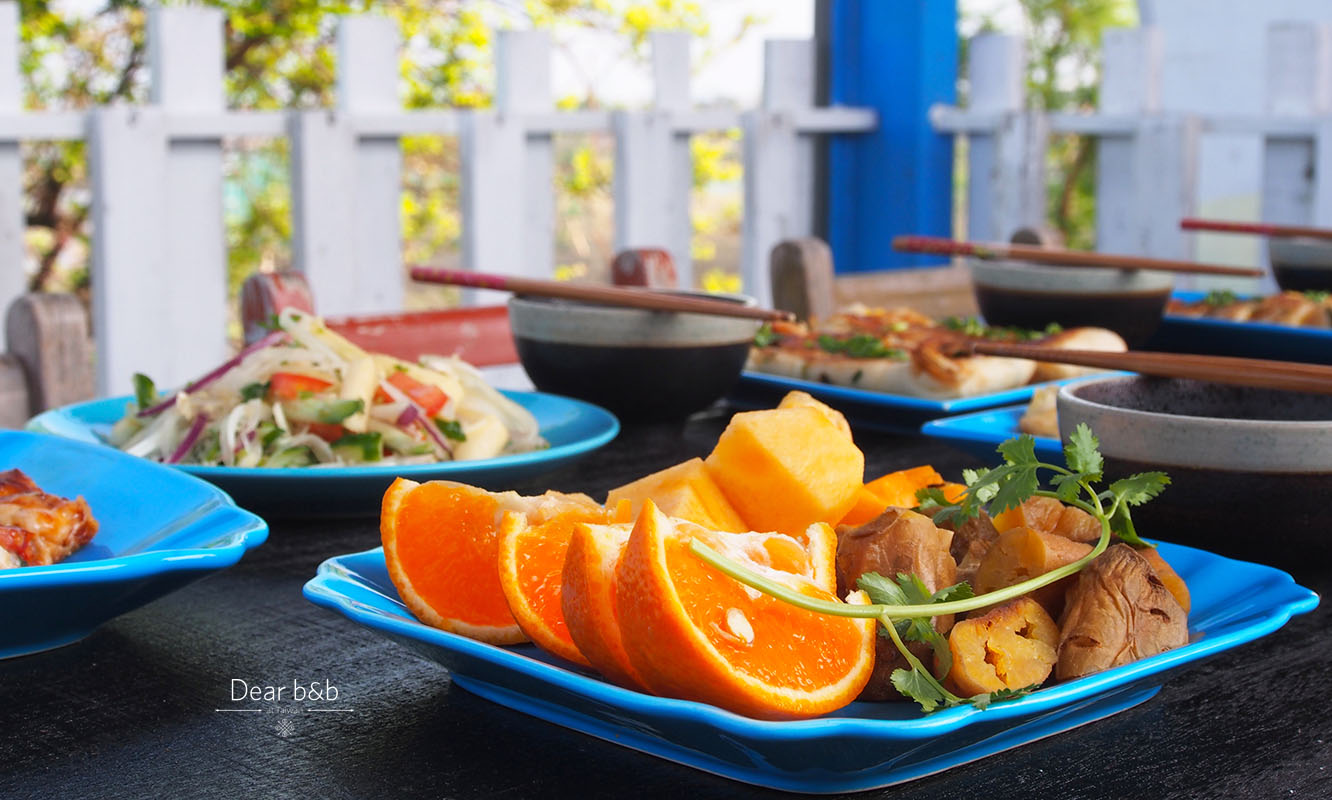 A sumptuous countryside breakfast
You wake at the break of dawn to the sound of clucking chickens, barking dogs and the aromatic breakfast that awaits you. Walking to the breakfast table, you'll certainly be shocked at first sight of the table full of sumptuous foods. You may even think you've overslept and your hosts have skipped right to preparing lunch! Besides Paul's own sweet potato leaves and corn, there is a host of other seasonal vegetables. Delicious egg flatbreads sprinkled with cilantro delight the taste buds. Lisa proudly states, "Our egg flatbreads are made with indica rice milk, making them softer, and they're really hard to come by!" At that moment, the housekeeper delivers a freshly baked pizza to the table! The melted cheese invites you to eat just one more slice. After you are full, Lisa will provide you with all the info you need about local sights to see.
Cat Sky House maintains the old-school retro lifestyle and pastoral tranquility of an old courtyard home in the countryside. In such a place, time simply slows down. With Lisa's humor and Paul's warmth, you'll certainly see how genuine the interaction between people can be. When you arrive at Cat Sky House, you'll see just how fun the countryside can be. In this old courtyard home, you can even follow the cats' lead, to gaze upon a new slice of sky.。