Summer fantasy
Open the gates to this dreamland and behold a fantasy paradise out of a young girl's daydream. A princess bed sits in the middle of a vast green field. Teak lounge chairs surround an inviting, clear swimming pool. Glance westward and behold an endless ocean view. There's a variety of charming inflatable swim rings floating upon the clear water of the pool. The whole summer scene seems to have burst from a dream.
Only when Heshi, the owner of this dreamland, walks out the front doors in her flowery skirt to greet you do you realize that this place is truly real. You follow Heshi into Daydream Inn, contemplating the relaxing atmosphere and princess-style decor which seems just like a little girl's fantasy land.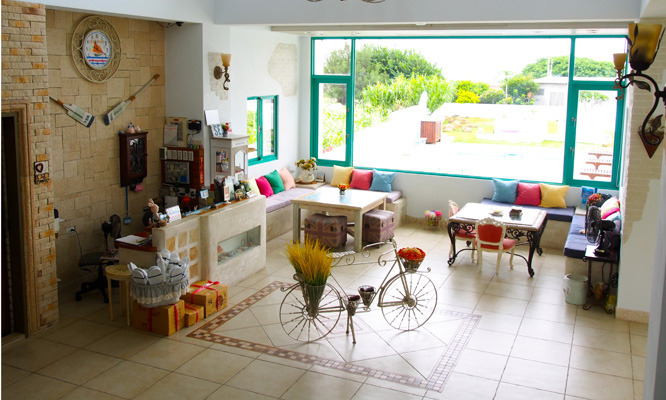 daydream canvas
The high ceilings and huge windows make for a spacious and bright lobby. Macaron-colored sofa cushions catch the eye like bright paint splattered across a canvas. Tasty brown sugar cakes and tisane tea, a local specialty, sit welcomingly on the table before you. Travelers move unconstrained throughout the space.
As you stroll up the stairs and along the outdoor balcony, you observe the attentive efforts Heshi has put into the creation of this white dreamland. Moon and star inlays decorate pure white walls. Cute little sailor dolls adorn window sills. Every element of the decor and design was executed personally by Heshi and her family, with their cute and dainty ornaments appearing in every corner as if awaiting to surprise you upon arrival!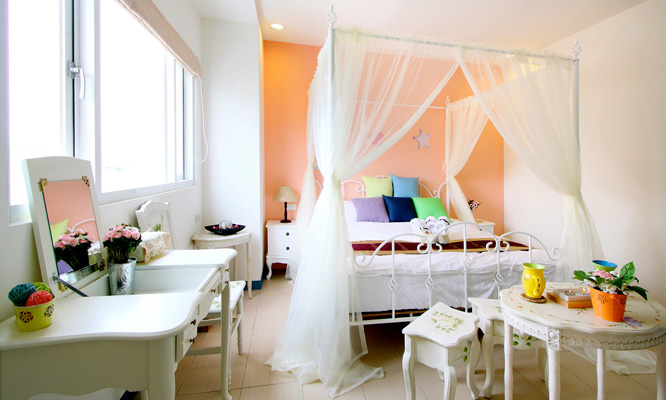 Tiptoeing in the clouds
You enter a room, where a basket of exquisite Verbena bath products and velvety soft slippers sits on the bed waiting for you. The slippers are customized according to Heshi's requirements. She wants you to feel so comfortable it's as if you're walking above the clouds, making sure that every second you spend at Daydream Inn is a real sensual experience.
The room overlooking the ocean offers more than just an impressive seaside view - the Penghu sunset makes a daily appearance as well. After dark, if your visit happens to be during the Penghu Fireworks Festival, you can admire the fireworks exploding into colorful blooms in the distance out of the same windows. No matter what time it is at Daydream Inn, the most splendid views are there for you just outside the window.
Daydream Inn does everything possible to give you a genuine dreamland experience. In the future, whenever you look out the window of a plane and see white clouds drifting through blue skies, you'll think of that time when you rode the cotton candy spaceship in Penghu.